Pioneers win two of three to complete spring trip, Heigel tosses no-hitter
March 4, 2010
MYRTLE BEACH, S.C. – The Point Park University softball team completed its spring training trip to Myrtle Beach, S.C., by winning two of three games Thursday.
BOX SCORE 1 ,  BOX SCORE 2,  BOX SCORE 3
Point Park (4-1) pounded Mary Baldwin (Va.) twice in winning by scores of 9-0 and 11-0 with each game ending after five innings due to the mercy rule. In between Thursday's victories, the Pioneers lost to Cabrini, 2-1.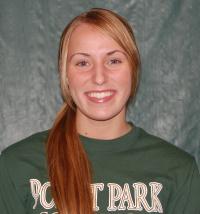 Point Park sophomore pitcher Abbie Heigel (DuBois/DuBois Central Catholic) tossed a five-inning no-hitter in the 9-0 win over Mary Baldwin, an NCAA Division III team. Heigel (pictured) struck out five and walked two in five innings to notch the first no-hitter of her career. Over the last two years, Heigel is 9-6 and has started 15 games.
Marlena Carnicella (Patton/Cambria Heights), another sophomore pitcher, limited Mary Baldwin to just one hit in helping the Pioneers earn an 11-0 win in the final game of the day. In her first start of the year, Carnicella went the full five innings with three strikeouts and two walks.
Point Park fell behind NCAA Division III Cabrini (4-2), 2-0, after two and a half innings but cut the lead in half with a run in the last of the third. But the Pioneers were unable to push across the tying run despite several chances late in the game.
Junior pitcher Kristen Zelenka (Washington/Trinity) pitched the first four innings versus Cabrini, and only one of the runs she gave up was earned. The Cavaliers' lead-off hitter Sammy Thompson reached on an error and scored the game's first run in the top of the first.
Casey O'Connell, the No. 2 hitter for Cabrini, stroked an RBI double in the third to give her team a 2-0 lead.
In the Point Park third, Zoe Hughes (Butler/Knoch) started things with a bunt single, and she moved to second on a groundout. Freshman Olivia Sorce (Verona/Penn Hills) then delivered a run-scoring single to cut it to 2-1.
Point Park freshman Kelsey Robertson (Frostburg, Md./Mountain Ridge) threw three scoreless innings of relief to keep it a one-run game, but the Pioneers could not capitalize on opportunities. Robertson has not giving up a run in eight innings thus far this year.
The Pioneers left two runners stranded in the fourth, and Lindsey Pesanka (Baldwin/Baldwin) was left at third to end the fifth. Sorce ripped a two-out double in the seventh, but the tying run was left on base when a hard liner by Christie Schroeder (Baldwin/Baldwin) was snagged on the infield.
Zelenka struck out two, walked one and gave up one earned run. Robertson had two strikeouts and no walks.
In the 9-0 win over Mary Baldwin, the Pioneers scored only runs it needed in the first inning. Point Park started the game with three singles in a row and took a 2-0 lead with an RBI base hit by Schroeder and a sacrifice fly from Courtney Cain (Homestead/Steel Valley).
Sorce belted a two-run homer, the first of her career, to make it 4-0 after two innings. In the fourth, Cain ripped a two-run home run as part of a four-run outburst. Cain, a senior first baseman, was 2 for 3 with three RBIs.
Pesanka reached base and scored all three times she batted and was 2 for 2 with a double. Zelenka, who had an RBI double in the third, joined Sorce and Danielle Dorunda (Warren/Warren) as other players with two hits apiece.
In the 11-0 victory over Mary Baldwin, a two-run homer by freshman Amanda Ardinger (Moon Twp./Moon Area) highlighted a five-run third inning for Point Park. Natika Ecklund (Irvona/Moshannon Valley) added an RBI single during the frame.
Point Park got on the board in the first when Cain ripped a two-run double. Sorce belted her second homer of the day – a solo shot – to begin the fourth. The next batter, Sara Guffey (Washington/Trinity), nearly made it back-to-back homers, but she settled for a triple off the fence. Guffey then scored on a suicide squeeze by Cain.
Guffey finished with two hits and three RBIs.
The Pioneers will travel north with a 4-1 record after playing five games at the rain-soaked Fast Pitch Dreams Spring Classic. Point Park opened the event by taking two games from Cabrini on Monday, but all scheduled games were wiped out by rain and poor field conditions on Tuesday and Wednesday.
The Pioneers had been scheduled to play a total of eight games on the trip, but their three games versus Bowie State were cancelled due to weather. Point Park opened up a 12-2 lead over Bowie State in the first game of a doubleheader Tuesday morning, but heavy rains came in the second inning forcing all of the day's action to be called off.
Point Park's next game is its home opener versus Gannon March 13. Point Park will host a doubleheader at Lind Field at Fairhaven Park beginning at 1 p.m. The Pioneers split a doubleheader at Gannon last year.