Pioneers break out of hitting slump to win Game 2, force split on Senior Day
April 20, 2010
KENNEDY TWP., Pa. – The Point Park University softball team broke out of its hitting slump to beat Carlow, 8-2, in the second game of an American Mideast Conference doubleheader at Lind Field Tuesday.
The Pioneers (17-9, 6-5 AMC) had opened the doubleheader by losing to Carlow (15-17, 2-10 AMC) by a score of 4-0. The loss in game one was the fifth in a row for Point Park and three of those were in conference play.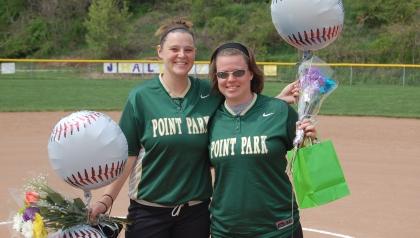 SENIOR DAY: Point Park celebrated its Senior Day Tuesday vs. Carlow, and four-year starters Courtney Cain (above, left) and Christie Schroeder (right) played their final games at Lind Field. Schroeder is a catcher who is hitting .370 this year while Cain a first baseman with a .354 average.
Point Park managed just four hits in the first game as winning pitcher Kelly Constantini pitched a complete game for Carlow. Constantini struck out only one, but she walked none and used strong defensive support to face only four batters over the minimum.
Carlow once again went with Constantini to start game two, but she made a quick exit after giving up a three-run homer to Cain (Homestead/Steel Valley) in the top of the first. Two batters later, Danielle Dorunda (Warren/Warren) hit a solo home run as Point Park took a 4-0 lead after half an inning.
Cain's fourth home run of the year followed a walk by Lindsey Pesanka (Baldwin/Baldwin) and a double by Schroeder (Baldwin/Baldwin). Dorunda, a freshman third baseman, leads the Pioneers with five homers and 23 RBIs.
Cain was 3 for 4 with three RBIs in the first game. She singled and stole second in the third before being doubled in by Dorunda. The Pioneers extended their lead to 7-2 in the fifth when Cain and Amanda Ardinger (Moon Twp./Moon Area) each singled to set up a two-out, two-run double from Kristen Zelenka (Washington/Trinity).
Ardinger, who leads the AMC in hitting at .493, had one hit in each game Tuesday to extend her hitting streak to 12 games. The freshman left fielder has hit safely in every game in the month of April.
Schroeder added an RBI groundout in the sixth to round out the scoring for Point Park.
The eight runs were more than enough for winning pitcher Kelsey Robertson (Frostburg, Md./Mountain Ridge). The freshman right-hander improved to 5-1 on the year with six strikeouts and no walks in a complete-game effort. Robertson, who has a 1.74 ERA, gave up six hits in seven innings.
The Pioneers had 11 hits in the nightcap. Cain tallied three hits while Dorunda and Zoe Hughes (Butler/Knoch) stroked two hits apiece.
Point Park had only four base runners in the first game, and no of them went past second base.
Carlow got on the scoreboard in the second inning of game one when a run scored on an infield error. In the third, the Celtics got an RBI single from Sam Kemock, and the next batter, Sarah Sevick, blasted a two-run homer for a 4-0 lead.
Point Park's game-one starter Kristen Zelenka (Washington/Trinity) went the distance, but the junior right-hander took the loss. Zelenka (6-6) had five strikeouts, zero walks and gave up eight hits in six innings.
Point Park returns to action Saturday by visiting Notre Dame (OH) for an AMC doubleheader at 1 p.m. At 6-5 in the conference, the Pioneers are sitting in fifth place of what is turning into a crowded AMC race. The top four teams make the AMC tournament, which is scheduled for May 5-7 at the site of the regular season champ.
Point Park is trailing Shawnee State (11-2), Notre Dame (8-4), Malone (8-6) and Walsh (7-5). Point Park visits sixth-place Cedarville (6-6) for two make-up games Monday.