Pioneers hang on for 6-5 win to split with Mt. Vernon Nazarene in AMC play
April 2, 2010
KENNEDY TWP., Pa. – Point Park snapped a two-game losing streak by hanging on to beat Mt. Vernon Nazarene, 6-5, Friday in the second game of an American Mideast Conference softball doubleheader at Lind Field. 
BOX SCORE GAME 1 , BOX SCORE GAME 2
Point Park (12-4, 1-2 AMC) opened the day with a 3-1 loss to Mt. Vernon Nazarene (6-9, 1-3 AMC), which gave the Pioneers an 0-2 record in conference play. But after giving up three unearned runs in losing game one, Point Park responded in game two to take an early lead.
Danielle Dorunda (Warren/Warren) capped off a four-run first inning with a three-run homer. The freshman third baseman's team-leading, third homer of the year came one batter after freshman Amanda Ardinger (Moon Twp./Moon) delivered an RBI single.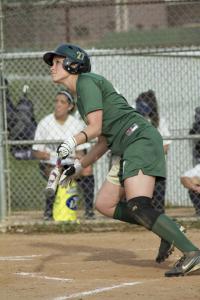 Earlier in the first inning, Nicole Kerestine (Brownsville/Brownsville) and Christie Schroeder (Baldwin/Baldwin) had each singled.
Point Park took a 5-2 lead when a runs scored on a wild pitch in the bottom of the third, and one inning later, Zoe Hughes (Butler/Knoch) led off with a solo homer to give the Pioneers a 6-2 lead.
Hughes is pictured left watching her home run. Photo by Murphy Moschetta.
Point Park starter Abbie Heigel (DuBois/DuBois Central Catholic) lasted into the sixth inning, but she was touched for three runs that frame. Heigel was still guarding a 6-3 lead when the Cougars had runners at second and third with one out. After an infield pop out, Kristin Kurelic ripped a two-run double with two outs to cut it to 6-5.
Reliever Kelsey Robertson (Frostburg, Md./Mountain Ridge) came on to get the last out of the sixth, and she stranded the tying run at second. The freshman right-hander had to do the same thing in the seventh when Michelle Gastin hit a one-out double in the seventh. A pinch runner was inserted, but the tying run was stranded when the next two batters lined out and grounded out, respectively.
Heigel got the win with two strikeouts and two walks in 5.2 innings. The sophomore right-hander scattered nine hits and improved to 3-0 on the year. Robertson picked up her second save of the year, which is one behind Heigel for the team lead in that category.
Schroeder and Dorunda each had two hits in game two, and the Pioneers had eight hits in all. Point Park got five runs off of starter Stephanie Burlew, who struck out two and walked three in three innings.
In the first game of the day, Point Park's Kristen Zelenka (Washington/Trinity) took the loss despite not giving up an earned run. The junior right-hander went 5.2 innings, struck out two, walked two and gave up seven hits. The Point Park defense committed two errors, and the Cougars drove in two runs on infield singles in the sixth.
Point Park did its only scoring in the bottom of the first. The Pioneers loaded the bases with no outs, but managed to get just one run. Ardinger was able to provide an RBI single, but winning pitcher Jill Wildermuth got out of the jam with minimal damage.
Wildermuth pitched a complete game, and did not give up an earned run. She struck out three, walked three and got great support from her infield defense. Wildermuth recorded 12 ground outs on the day.
Kerestine and Courtney Cain (Homestead/Steel Valley) had two hits apiece for Point Park, which totaled with hits as a team.
Robertson pitched the final 1.1 innings of the opener. In 2.2 innings of relief on the day, she gave up no runs on two hits.
Point Park visits Ursuline Tuesday for an AMC doubleheader beginning at 4 p.m.