Walsh's pitching carries Cavaliers to AMC sweep of Point Park
April 14, 2010
NORTH CANTON, Ohio – Walsh University used its starting pitching to shut down visiting Point Park University in a couple of American Mideast Conference softball games Wednesday afternoon.
Walsh (14-16, 6-4 AMC) won the first game, 3-0, after Ashley Virgin turned in a complete-game shutout. In the second game, Walsh's Erin Ebert did not allow Point Park (16-6, 5-4 AMC) to get a hit the first five innings in a 2-1 victory for the Cavaliers.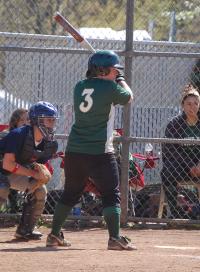 Point Park had entered Wednesday as winners of its last five games following an 0-2 start to conference play. But the Pioneers couldn't get their bats going against Walsh, despite getting good pitching of their own.
Pictured left: Point Park's Christie Schroeder was 3 for 5 with an RBI on the day, but the Pioneers didn't get much other offense. Photo by Lyddia Ankrom.
Point Park's Kristen Zelenka (Washington/Trinity) took the loss in a game one after a complete-game effort. Zelenka struck out four, walked one and gave up seven hits.
Walsh had four of its seven hits in the second inning on its way to a 1-0 lead. The Cavaliers used three straight singles to load the bases and the fourth consecutive base hit was Jenna Rosso's RBI single, which moved each runner up a base.
In the third, Walsh got a two-out RBI single from Megan Cain to make it 2-0. The Cavaliers added an insurance run in the sixth when a walk, a single and a sacrifice bunt put runners at second and third before Ashley Hoover's RBI ground out.
The Pioneers left eight runners on base in game one, and four of those were left in scoring position. Point Park had at least one runner on in six of the seven innings, but it could not get the big hit. Senior catcher Christie Schroeder (Baldwin/Baldwin) had two of Point Park's seven hits.
Winning pitcher Virgin ended up with four strikeouts and one walk in the shutout victory.
In the second game, Abbie Heigel (DuBois/DuBois Central Catholic) took the loss in five innings of work. Heigel struck out three, walked one and the only real mistake that she made was a two-run homer to Krystal Sherry that gave Walsh a 2-0 lead in the fourth.
Ebert, the winning pitcher, cruised through the first five innings and took a no-hitter into the sixth inning. With one out, Lindsey Pesanka (Baldwin/Baldwin) broke up the no-hit bid with a single. Two batters later, Pesanka scored on a base hit from Schroeder to cut it to 2-1.
Amanda Ardinger (Moon Twp./Moon Area) started the Point Park seventh with a lead-off double, and after a one-out single by Sara Guffey (Washington/Trinity), the Pioneers had runners at first and third. But the game ended when the next batter, Julie Campbell (Baldwin/Baldwin), popped out and Guffey was doubled up on the play.
Ebert finished with six strikeouts and no walks, and all four of the hits she gave up came in the last two innings.
Point Park's Kelsey Robertson (Frostburg, Md./Mountain Ridge) worked one inning of relief in game two, and the freshman right-hander retired all three batters she faced.
The Pioneers get right back into AMC play by visiting Cedarville for a doubleheader Friday at 3 p.m. Fans can follow the action via the live stats provided by Cedarville sports information. Visit the Point Park softball website for more information come game time.