Pioneers win two AMC games at Cedarville, move closer to making playoffs
April 27, 2010
CEDARVILLE, Ohio – The Point Park University softball team won two American Mideast Conference games at Cedarville Tuesday and moved a couple steps closer to making the AMC playoffs.
The Pioneers (19-9, 8-5 AMC) beat Cedarville (21-29, 6-10 AMC) by scores of 6-0 and 6-1, and they can clinch a spot in the AMC postseason by winning two more games.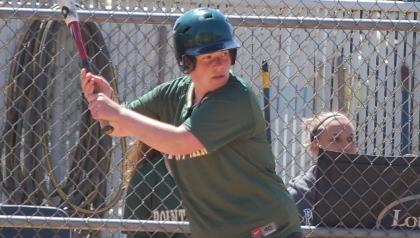 PICTURED ABOVE: Point Park sophomore right fielder was 6 for 6 with two RBIs and two runs on the day.
Photo by Lyddia Ankrom.
Point Park visits Notre Dame (OH) (10-4 AMC) for a doubleheader Thursday. Besides that, the only other game remaining for the Pioneers is a make-up game versus conference-leading Shawnee State (11-2 AMC). But that game won't be played unless necessary.
Point Park currently stands in fifth place, and needs to move up to fourth to make the AMC playoffs. The Pioneers need to catch fourth-place Malone (10-6 AMC), which lost to Point Park twice and has completed its conference schedule. Third-place Walsh (9-5 AMC) finishes its AMC slate by hosting lowly Carlow (2-12 AMC) on Friday.
Point Park's Julie Campbell (Baldwin/Baldwin) had a career day Tuesday to help the Pioneers keep their playoff hopes alive. The sophomore right fielder was 3 for 3 in each game, and she doubled her hit total for the year by picking up six hits on the day.
Campbell had three of Point Park's 12 hits in the opener, and she also drove in two runs. The Pioneers got 10 hits and six earned runs off of Cedarville starter Emily Young the first 4.1 innings.
That offensive output was plenty for winning pitcher Kristen Zelenka (Washington/Trinity), who earned the complete-game victory by striking out six, walking none and yielding one run on three hits. The junior-right hander improved to 7-6 on the year and survived three errors by Point Park.
In the second game, Point Park had six hits and took advantage of six errors by the Cedarville defense. Five of the six runs that the Pioneers scored were unearned. Point Park took a 5-0 lead after scoring four unearned runs in the top of the fifth.
Of Point Park's six hits in the second game, Campbell had three and Amanda Ardinger (Moon Twp./Moon Area) had two. Ardinger was 3 for 4 with an RBI in game one, and she picked up a couple of hits in the nightcap to extend her hitting streak to 14 games.
Ardinger, a freshman left fielder, was leading the AMC in hitting by over 50 points in this week's stats (published Monday), and her 5 for 8 performance Tuesday boosted her average to .507 (38 of 75) on the year.
Freshman pitcher Kelsey Robertson (Frostburg, Md./Mountain Ridge) started game two for Point Park, and she got the victory in five innings of work. Robertson (7-1) totaled three strikeouts and three walks, and she gave up no runs on four hits.
Sophomore Abbie Heigel (DuBois/DuBois Central Catholic) finished off the game by pitching two scoreless innings, but it was not a save situation. She gave up one hit.
Besides Campbell and Ardinger, other hitting stars in game one included Courtney Cain (Homestead/Steel Valley) with two hits and an RBI and Zoe Hughes (Butler/Knoch) with one hit and two RBIs.
Hughes' base hit drove in a run to give Point Park a 1-0 lead in the second. An inning later, Ardinger followed Cain's RBI double with a run-scoring base hit. Three batters later, Campbell drove in a run with a single to make it 4-0.
After two singles and a walk loaded the bases with one out in the Point Park fifth, Campbell and Hughes each drove in a run to bump the lead to 5-0. A run came home on Campbell's single and on Hughes' groundout.
Campbell was a catalyst in game two, as she had three hits and scored two runs. She singled in the third and eventually came around to score on a wild pitch. That was the only earned run of the game.
When Point Park broke the game open with four unearned runs in the fifth, it was Campbell's single up the middle that got things started. By the time the inning was through, Point Park had gotten four runs on two hits, three errors and a walk.
Two more errors in the seventh allowed Point Park to take a 6-0 lead. The Pioneers did not have an RBI in the game. Losing pitcher Kayla Thornsberry pitched all seven innings and was saddled with five unearned runs. She struck out five and walked two.
NOTES: Point Park starting catcher and team captain Christie Schroeder (Baldwin/Baldwin) missed Tuesday's game because she had a final exam. Schroeder is the regular No. 3 hitter in the lineup, but Sara Guffey (Washington/Trinity) batted third and caught Tuesday afternoon. Guffey is usually the designated player for the Pioneers. The games at Cedarville had been rained out multiple times causing the make-up date to fall during finals week.