Point Park University softball adds seven recruits for 2010-11
July 6, 2010
PITTSBURGH – Point Park University softball head coach Michelle Coultas has announced the signing of seven incoming freshmen for the 2010-11 year. Coultas, who completed her fourth season as head coach earlier this year, calls this year's recruiting class the best one she has had at her alma mater.
"This recruiting class takes our program to the next level," said Coultas, an all-conference player at Point Park from 1993-97. "This is the strongest class we've had at Point Park. This group is very athletic, very versatile and has a lot of strong players. We added power and speed to the lineup and also got pitching and defense."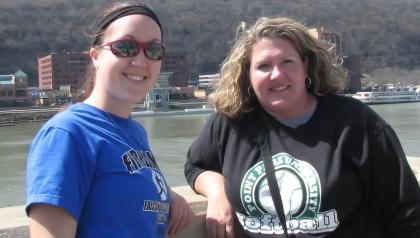 Pictured above: Point Park head coach Michelle Coultas poses with recruit Teresa Davis in downtown Pittsburgh. Submitted photo.
The Point Park softball program has been on the rise the last two years with a 41-25 record during that time. The Pioneers were 19-11 this past season and 22-14 the year before. But Point Park has missed the American Mideast Conference playoffs by one game each of the last two years. The Pioneers hope to get over the hump in 2011.
The group of seven recruits includes two players from Pennsylvania, two from Ohio and one each from Maryland, Virginia and West Virginia.
The recruiting class is made up of Ashley Morran (IF/OF, Washington, Pa.), Amber Tutino (OF, Ligonier, Pa.), Teresa Davis (C/IF, Vermilion, Ohio), Brea Magnone (IF/OF, Steubenville, Ohio), Lindsey Inzana (P/3B, Chesapeake, Va.), Destiny James (IF, Cumberland, Md.) and Abby Mathieu (OF, Wheeling, W.Va.).
Point Park's 2010-11 softball recruiting class is as follows:
ASHLEY MORRAN, IF/OF, Washington, Pa., Trinity H.S.
Morran was an all-state selection and the WPIAL Player of the Year as a junior in 2009. She played a number of positions in high school, although she played shortstop as a senior at Trinity this past season.
"Ashley has a power bat to add to the middle of our lineup," said Coultas. "She is very a versatile and athletic player – in high school she played shortstop, first base and center field at different times – so she is a great addition to our team."
AMBER TUTINO, OF, Ligonier, Pa., Ligonier Valley H.S.
Tutino, from Ligonier, is a speedy outfielder who helped Ligonier Valley High School to an undefeated regular season, a District 6 Class A title and a berth in the PIAA semifinals this past season.
"Amber is a very fast outfielder who comes from a strong team at Ligonier Valley," said Coultas. "She adds speed to our outfield, and she is someone who can get on base."
TERESA DAVIS, IF/OF, Vermilion Ohio, Firelands H.S.
Davis is a first-team all-state catcher from Vermilion, Ohio, and Firelands High School. Davis, who will also play women's basketball at Point Park, was an All-Ohio first teamer as a senior catcher at Firelands. The Lorain County Division II Player of the Year hit .475 with seven homers and 41 RBIs this past season. She was honorable-mention all-state in basketball.
"Teresa is an all-around great athlete," said Coultas. "She will be a power hitter in our lineup. As a catcher, she has a very strong arm with a quick release, and she can also play infield."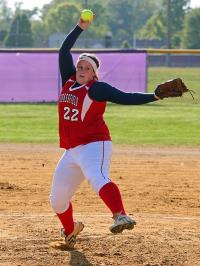 LINDSEY INZANA, P/3B, Chesapeake, Va., Grassfield H.S.
Inzana (pictured) is a hard-throwing pitcher from Chesapeake, Va., and Grassfield High School. The right-handed Inzana was named All-Eastern Region first team as a senior. Her high school stats over the last two years include a 0.55 ERA with 146 strikeouts and 13 walks in 115 innings pitched. Also a strong hitter, she compiled a .468 batting average over the last two seasons. 
"Lindsey throws very hard, and she has the ability to dominate with her velocity," said Coultas. "She will add a lot to our pitching staff, and we can also use her at the plate because she has a good, powerful bat."
BREA MAGNONE, 1B/C/OF, Steubenville, Ohio, Steubenville Big Red H.S.
Magnone, from Steubenville, Ohio, and Steubenville Big Red High School, is a versatile player who can play first base, catcher and outfield. The left-handed Magnone was twice named to the OVAC second team.
"Brea gives us left-handed hitting power, something that we have not had," said Coultas. "She is a versatile player who we can use at first base or catcher. She is a very smooth player in the field." 
DESTINY JAMES, IF, Cumberland, Md., Fort Hill H.S.
James is an infielder from Cumberland, Md., and Fort Hill High School. James is a left-handed slap hitter with a lot of quickness. James, who will also play women's soccer at Point Park, was chosen to the Cumberland All-City second team. James was the starting shortstop for Fort Hill's Class A state championship team.
"Destiny adds speed and quickness to our lineup and the infield," said Coultas. "She can get on base, and her speed will be a weapon. And she will add depth to our infield." 
ABBY MATHIEU, OF, Wheeling, W.Va., Wheeling Park H.S.
Mathieu is an outfielder from Wheeling, W.Va. She did not compete for her Wheeling Park High School team, but she was a standout player in the Mountaineer Girls Softball Association. Her three-year run with the Bethlehem 18U team included a .521 batting average. Playing for the Road Runners 18U team the last two years, she had a .473 average as a leadoff hitter.
"Abby is a true outfielder who has good speed and good technique in the field," said Coultas. "She has speed, a good arm and she can get on base. And she played for some good club teams in West Virginia."