Sara Guffey added to Point Park University softball roster
Feb. 22, 2010
PITTSBURGH – Point Park University softball coach Michelle Coultas announced that catcher/designated player Sara Guffey joined the Pioneers at the start of the spring semester.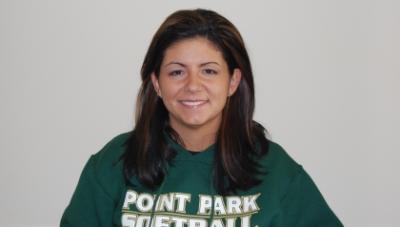 Guffey (pictured above), a native of Washington, Pa., and a 2008 graduate of Trinity High School, enrolled at Point Park at the start of the spring semester and will be eligible to play right away in the upcoming season.
"Sara will immediately impact our lineup," said Coultas, who is in her fourth year as head coach at her alma mater. "She is a threat at the plate with the ability to hit for power, and she will add depth to our experience at catcher."
Guffey was a two-time WPIAL all-section player and a three-year starter during her career at Trinity. She walked on to the softball team at California (Pa.) in the fall of 2008, but left the school without playing in any games.
She is listed as a freshman at Point Park because she has four years of eligibility remaining.
Point Park begins the 2010 softball season with eight games at the Fast Pitch Dreams Spring Classic in Myrtle Beach, S.C., from March 1-4.