Point Park softball signs transfer Ashlie Kuhn from Mercyhurst NE
June 24, 2011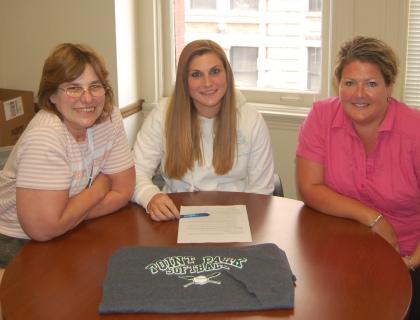 Transfer Ashlie Kuhn (center) with her mother (left) and Point Park head coach Michelle Coultas. 
PITTSBURGH -- Point Park University softball has added transfer Ashlie Kuhn, an NJCAA All-Region player from Mercyhurst Northeast, announced Pioneers head coach Michelle Coultas. Kuhn, from Cranberry Twp., Pa., and Seneca Valley High School, is a pitcher/third baseman.
"Ashlie brings collegiate experience and maturity, and she is an all-around good athlete," said Coultas. "She comes from a winning program at Mercyhurst Northeast, and she is a great addition to our team."
The versatile Kuhn was a strong performer at the plate and was also an effective pitcher for Mercyhurst NE the last two years. She will be a junior at Point Park in the fall of 2011.
Kuhn was named NJCAA All-Northeast Region this past year when she hit .347 with team highs of five home runs, eight doubles and 40 RBIs. On the mound, the All-Western New York Athletic Conference performer was 3-2 with two saves and a 3.13 ERA. She struck out 13 and walked three in 38.0 innings pitched.
Kuhn was a part of a successful program at Mercyhurst NE where she helped the Saints to a national ranking and a final record of 28-18 overall, 9-0 conference.