Point Park wins easily over Penn State-Fayette, 11-0 and 17-2
March 27, 2011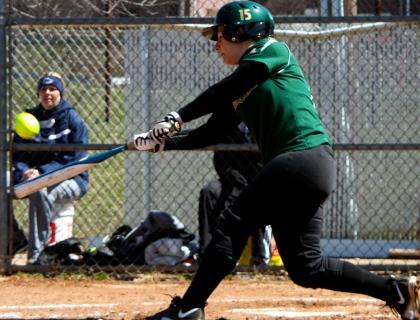 Point Park's Amanda Ardinger had a three-run homer in the first game Sunday. Photo by Lyddia Ankrom
KENNEDY TWP., Pa. – Point Park University outscored visiting Penn State-Fayette, 28-2, to easily win both games of a non-conference softball doubleheader Sunday at Lind Field at Fairhaven Park. Point Park won the first game, 11-0, before laying on a 17-2 drubbing in the nightcap. Both games ended after five innings.
Point Park (10-7) has now won three games in a row following a three-game losing streak. The Pioneers got their bats going early and often in both games Sunday. Point Park led game one, 9-0, after two innings and led game two, 15-0, after two innings.
Amanda Ardinger had two hits, including a three-run homer, in the first game. The sophomore from Moon Twp., Pa., who leads Point Park regulars in hitting at .405, drove in three runs and scored twice. Ashley Morran, a freshman shortstop from Washington, Pa., was 2 for 2 with two hits and two RBIs in the opener. She ripped a two-run single in the third to give the Pioneers an 11-0 lead.
Junior catcher Sara Guffey, from Washington, Pa., totaled two RBIs as did freshman utility player Brea Magnone, a native of Weirton, W.Va. Guffey had a sacrifice fly as part of a five-run first, and she added an RBI double one inning later. Magnone, brought home a couple of runs with a base hit in the first.
Freshman Abby Mathieu, from Wheeling, W.Va., had a pair of infield hits from the leadoff spot and came around to score each time. Teresa Davis, a freshman third baseman from Vermilion, Ohio, got on base three times and scored three runs.
Marlena Carnicella (1-1) pitched the first three innings to get the win. The junior from Patton, Pa., gave up no runs on one hit, struck out two and walked one. Abbie Heigel worked the last two innings.
In the second game, Point Park scored 11 times in the second inning to turn on the rout. Point Park sent 15 batters to the plate that inning and took advantage of five hits, five walks and an error.
Sophomore Danielle Dorunda, a native of Warren, Pa., totaled a team-high five RBIs in the nightcap. She now leads the Pioneers with 14 RBIs to go along with a .356 batting average. She had four RBIs in the second inning alone, the last three of which came on a three-run double to make it 15-0.
Other big hits in the second included a two-run single from Nicole Kerestine and two-run double from Natika Ecklund. Davis, who was 2 for 2 with two RBIs and reached base four times, knocked in a run with a base hit that inning. Kerestine finished with two hits and three RBIs. Also with three RBIs was Courtney Manovich, who ripped a three-run double as part of a four-run first inning.
Kelsey Robertson (3-2) earned the victory in game two. She pitched three innings, struck out six, walked none and gave up five hits. PSU-Fayette (0-6) strung together three singles to get a run off Robertson in the third. The Roaring Lions got a run in the fifth off reliever Carnicella with a walk, a steal and two groundouts.