Point Park drops two non-conference games at West Liberty
March 29, 2011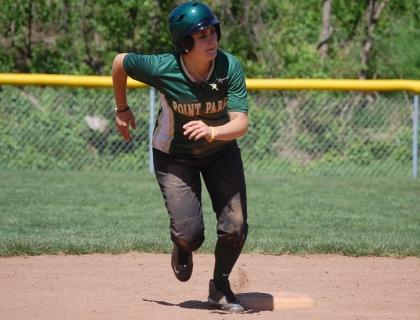 Lindsey Pesanka was 6 for 8 with four RBIs Tuesday at West Liberty.
WEST LIBERTY, W.Va. -- Point Park University totaled 24 hits on the day but came up empty in both ends of a non-conference softball doubleheader at West Liberty Tuesday afternoon. The Pioneers were undone by errors in a narrow, 4-3 loss to start the day. In the second game, West Liberty out-slugged Point Park, 10-8.
Point Park (10-9) put together 10 hits in the opener, but that offensive output was wasted on three errors that led to three unearned runs. The Pioneers pounded out 14 more hits in the nightcap -- one more than West Liberty (4-23) -- but Point Park left 13 runners on base.
Senior infielder Lindsey Pesanka, a native of Baldwin, Pa., had a strong day with six hits in eight at-bats and four RBIs. The four-year starter 2 for 3 with an RBI in the first game before going 4 for 5 with three RBIs in game two.
In the first game, Pesanka singled and scored on Julie Campbell's double for a 1-0 lead in the second. West Liberty scored a couple of unearned runs in the fourth for a 2-1 lead, but the Pioneers notched a couple of runs in the sixth to regain a one-run lead, 3-2. Those runs came on an RBI double from Ashley Morran and a run-scoring single by Pesanka.
But in the bottom of the sixth, West Liberty scored the go-ahead runs by virtue of a double, a single, an error and a fielder's choice.
Point Park starter Lindsey Inzana (3-4) went the distance for Point Park in taking the loss. The freshman from Chesapeake, Va., gave up only one earned run among the four charged to her. She struck out seven, walked none and gave up six hits.
Amanda Ardinger had two hits from the lead off spot in joining Pesanka as Point Park players with two hits.
The teams combined for 27 hits and 18 runs in the second game. Pesanka ripped a two-run single in the top of the first to give Point Park the early lead, but West Liberty scored a run in each of its first three innings for a 3-2 lead.
Point Park put together a four-run rally in the fourth, and that was built on four hits. Pesanka and Olivia Sorce each brought home a run with a base hit, and Campbell finished off the rally with a two-run single.
But West Liberty answered right back in the bottom of the inning. The Hilltoppers got five runs in the fifth after stringing together five straight hits. The first hit was a solo home run, and the last hit was a three-run homer. 
Point Park had chances the last couple of innings, but it left two runners on base in each of its last two at-bats to end up with 13 left on base in all.
Point Park's 14-hit attack was led by Pesanka's four hits and Sorce's three hits. Ardinger doubled and tripled to account for her two hits, and Danielle Dorunda had a pair of singles.
Abbie Heigel (2-2) got the start for Point Park in game two and took the loss in 3.1 innings. Kelsey Robertson came on in relief and pitched the rest of the game.
Point Park returns to action Friday with its first American Mideast Conference game of the year. The Pioneers visit Mt. Vernon Nazarene at 3 p.m.