Robertson, Campbell lead Point Park to split at Seton Hill
April 20, 2011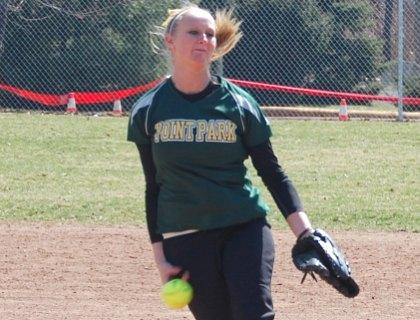 Kelsey Roberston gave up 1 hit in 6 IP to win game two, 3-0. Photo by Ashley Hendeson.
GREENSBURG, Pa. -- Kelsey Robertson gave up only one hit in six shut-out innings and Julie Campbell drove in all three runs to lift Point Park University to a 3-0 win at Seton Hill University in the second game of a non-conference softball doubleheader Wednesday evening.
The Pioneers (18-15, 7-3 AMC) opened the day with a 4-3 loss as Seton Hill (18-19) scored two runs in the bottom of the seventh to win game one.
But Robertson (4-4) totally stifled the Griffins in game two, and she combined with Lindsey Inzana (S, 2) on a two-hit shutout. Robertson, a sophomore from Frostburg, Md., faced the minium 18 batters in her six innings and had only two batted balls leave the infield.
The third batter of the game, Liz Piekut, grounded a ball out to right field, but she was pegged at first by Nichelle Navarro. The only hit that Robertson gave up was a one-out single to Brandi Piccolino in the fourth, but Piccolino was gunned down by Navarro as she tried to stretch it into a double.
Robertson struck out six and walked none to out-duel Seton Hill pitcher Lyndsey Nusser. Nusser struck out 12, walked one and gave up six hits in seven innings. The only Point Park batter with much success versus Nusser was Campbell, who drove in two runs with a two-out double in the fourth and belted a solo homer for a 3-0 lead in the top of the seventh.
With the 3-0 lead, Inzana gave up one hit, struck out one and walked none to earn her second save in as many games. Robertson and Inzana combined on a key, 3-2 AMC win over Walsh Monday.
In the first game, Point Park had all three of its runs and six of its eight hits the first three innings, but was blanked the rest of the way by winning pitcher Caitlyn Kamlich (10-4).
Point Park's Kristen Zelenka (6-2) took the loss, and she was guarding a 3-2 lead when the Griffins came to bat in the bottom of the seventh. A pair of one-out walks followed by consecutive, RBI singles from pinch hitter Nusser and Felicia Domaskey produced the winning runs for Seton Hill.
Zelenka struck out three, walked three and gave up four runs on seven hits. She pitched all 6.1 innings for the Pioneers. Kamlich finished with six strikeouts, one walk and eight hits against. Most importantly, she put up five zeroes on the scoreboard after Point Park went ahead, 3-0, after its first two times at bat.
In the Point Park first, base hits by Amanda Ardinger and Olivia Sorce were followed by an RBI single from Danielle Dorunda and a wild pitch that scored Sorce. In the second, Campbell and Ardinger both singled, and a single run was pushed across on Navarro's ground out.
Ardinger and Sorce each went 2 for 4, and Point Park totaled with hits as a team.
The Pioneers return to American Mideast Conference action Friday with an important home doubleheader vs. Notre Dame (OH). Notre Dame (6-2 AMC) is in a virtual tie with Point Park (7-3 AMC) for first place in the AMC. Game time is 3:30 p.m. at Lind Field, and it will be Senior Day for the Pioneers.