Point Park's Robertson is AMC Softball Pitcher of the Week (April 18-24)
April 27, 2011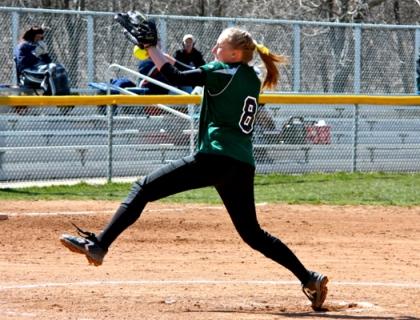 Kelsey Robertson delivers a pitcher in a game earlier this year. Photo by Lyddia Ankrom.
PITTSBURGH -- Point Park University sophomore pitcher Kelsey Robertson has been named the American Mideast Conference Softball Pitcher of the Week for games played April 18-24. The right-hander from Frostburg, Md., was 1-0 and gave up only two runs in 11 innings last week to take home the award.
The product of Mountain Ridge High School had two strong starting performances to help Point Park take over first place in the AMC. The Pioneers are now 20-15 overall and atop the AMC standings at 9-3 heading into Thursday's regular season finales versus second-place Notre Dame (OH). (7-3 AMC).
Robertson pitched five strong innings but ended up with a no-decision in last Monday's, important, 3-2 victory over AMC foe Walsh. She gave up two runs on six hits, kept the Pioneers in it through out and handed a 2-2 tie over to relief pitcher Lindsey Inzana. Point Park eventually got the winning run in the sixth.
Perhaps her best start of the year came last Wednesday at NCAA Division II Seton Hill. Robertson gave up just one hit in six shutout innings as Point Park got an impressive, non-conference win, 3-0. She struck out six and walked none. Like two days prior, Inzana came on to close out the game.
Robertson has returned to the form of her freshman season, and that is a big reason why the Pioneers have won eight of their last nine conference games. This year, she is 5-4 with a 4.31 ERA and a team-best .265 opponent's batting average. As a freshman in 2010, she was named AMC Pitcher of the Year at 6-1, 1.53 ERA.