Point Park drops a pair of games at NCAA Division II Gannon, 2-0 and 12-4
April 3, 2011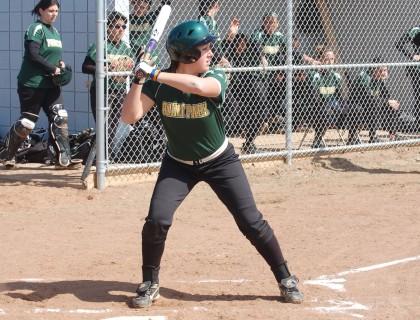 Teresa Davis homered in Game 2 Sunday. Photo by Ashley Henderson
ERIE, Pa. – Point Park University lost a pair of non-conference softball games at NCAA Division II Gannon Sunday. The Pioneers (11-12) lost the first game, 2-0, in a pitcher's duel before dropping game two, 12-4, in six innings.
In the first game, Megan Dragon tossed a complete-game, one-hitter for Gannon (13-11). Dragon struck out 11, walked just one and took a no-hitter into the seventh inning.
Dragon retired the first 13 batters she faced, and Point Park's Ashley Morran broke up the perfect game with a one-out walk in the fifth. Pinch hitter Ashley Miller spoiled Dragon's no-hit bid by leading off the seventh with a pinch-hit single.
Kristen Zelenka (2-1) pitched a complete game for Point Park and gave up just one earned run in taking the loss. The senior right-hander from Washington, Pa., gave up just four hits in six innings, struck out four and walked none.
Gannon took a 1-0 lead in the second when a run-scoring base hit followed an error that had put a runner at second. The Golden Knights made it 2-0 in the sixth after a bunt single and three wild pitches produced a run.
In the second game, Point Park had a 3-0 lead after three and a half, but Gannon scored 12 of the final 13 runs. Point Park got on the board with Teresa Davis' second homer of the year, a solo shot in the third. In the fourth, Morran singled for one of her three hits, and Lindsey Pesanka and Davis each followed with an RBI single later in the inning.
But Gannon responded with a five-spot on the bottom of the fourth. Those runs came on five hits with the biggest being a two-run homer by Tiffani Danks and a two-RBI single from Kirstie Cortazzo.
After Point Park had cut it to 6-4 on Amanda Ardinger's pinch-hit, RBI single in the top of the sixth, Gannon came through with six runs in the bottom of the inning to end the game on the eight-run mercy rule. A two-run single by Katie Dunn, the last of Gannon's 12 hits, made the score 12-4 to end the game.
Morran finished game two 3 for 3 with a run scored. Davis was 2 for 3 with two RBIs and a run. Point Park starter Kelsey Robertson (3-4) took the loss in 3.1 innings of work. Lindsey Inzana worked the last 2.1 innings.
Although its record is under .500 for the first time since being 2-3 on March 8, the Point Park has tested itself against NCAA Division II teams. The Pioneers are 1-5 in those games with all of them being on the road. Point Park has six more games vs. NCAA DII schools – at Slippery Rock, at Clarion and at Seton Hill. The Pioneers 2-8 overall in road games this year.
Point Park plays again Tuesday when it host Ursuline for an AMC doubleheader at 4 p.m.