Point Park erases early deficits, rallies past Ursuline for AMC split
April 7, 2011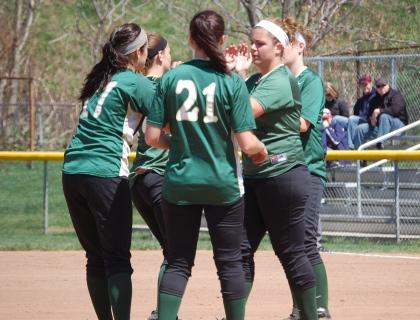 KENNEDY TWP. Pa. -- Point Park University erased early deficits of 4-1 and 6-3, and Kristen Zelenka tossed five scoreless innings of relief as the Pioneers rallied past Ursuline, 9-6, to earn a split of an AMC softball doubleheader at Lind Field at Fairhaven Park Thursday evening. Point Park (12-13, 2-2 AMC) had lost the first game, 4-1, to Ursuline (4-11, 2-4 AMC).
Point Park out-hit Ursuline, 9-8, in the first game but still came up on the short end for the fourth time in a row. Ursuline managed to get just enough key hits, though, and winning pitcher Ciara Seymour limited Point Park to one run in a complete-game effort.
The Arrows scored three of their four runs on important, two-out hits, and the fourth run came on a leadoff homer by Seymour in the fourth. Point Park starter Lindsey Inzana (3-5) took the loss as the freshman from Chesapeake, Va., gave up four runs on eight hits, struck out three and walked four.
Point Park was led by Nichelle Navarro and Ashley Morran, who each had two hits in game one. The Pioneers left the bases loaded in the sixth and had the tying run at the plate with two outs in the seventh.
In the second game, Point Park got an early run on the board via Danielle Dorunda's RBI single in the first. But Ursuline got a grand slam home run from No. 8 hitter Liz Maher in the top of the second for a 4-1 lead.
Navarro, a junior outfielder from Buena Park, Calif., got Point Park within 4-3 with a two-out, two-run single in the bottom of the inning, but Ursuline regained a three-run lead in its next time at bat. Ursuline's first two batters of the third reached base, and that's when Point Park starter Marlena Carnicella was lifted in favor of Zelenka.
Zelenka gave up a couple of RBI singles once she entered the game, but both of those runs were charged to Carnicella as the visitors went ahead, 6-3. From there, Zelenka retired the final 13 batters she faced, a streak that started with a strikeout to end the third inning.
Zelenka (3-1) got the win with five scoreless innings of relief. She gave up only the two singles when she came on in the third, struck out five and walked none. Her season numbers include a 2.20 ERA, 35 strikeouts and eight walks.
With Zelenka holding Ursuline down, Point Park scored the final six runs of the game for the comeback win. The Pioneers tied it with three runs in the bottom of the third as Lindsey Pesanka's RBI single was followed three batters later with a two-run double from Larissa Banks.
With two on and no outs in the fourth, Point Park's Ashley Morran delivered the biggest blow of the game -- a towering three-run homer to left field that made the score 9-6. Morran was 2 for 3 with a homer -- her fourth of the year -- and a double.
Banks, Navarro and Julie Campbell joined Morran as players with two hits apiece. Point Park totaled 12 hits compared to just three for Ursuline.
Point Park will continue AMC play Saturday at Malone (4-0 AMC). The doubleheader begins at 1 p.m. in Canton, Ohio.