Coultas, Zelenka named AMC Softball Coach & Pitcher of the Year, respectively
May 12, 2011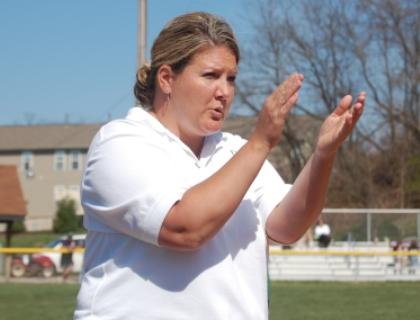 Point Park head coach Michelle Coultas was named 2011 AMC Softball Coach of the Year.
PITTSBURGH – Point Park University softball took home two of the biggest individual awards in the American Mideast Conference when fifth-year head coach Michelle Coultas was named the AMC Softball Coach of the Year and senior right-hander Kristen Zelenka was tabbed the AMC Softball Pitcher of the Year, as released Thursday by the league office.
Coultas, a Point Park softball alum, guided the Pioneers (23-18, 10-4 AMC) to a share of the AMC Regular Season Championship and a trip to the finals of the AMC Tournament last week. The 23 wins were the most for the Pioneers under Coultas, who has a record of 93-86 in five years at her alma mater. Point Park has averaged 21.3 wins per year the last three seasons while going from a bottom-feeder in the AMC to one that competes for conference titles.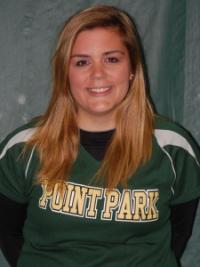 Zelenka (pictured) is a senior from Washington, Pa., and a graduate of Trinity High School. She was voted as the top pitcher in the AMC with a 7-2 record and a 2.51 ERA in 86.1 innings pitched. She made 14 starts, registered six complete games and had 62 strikeouts compared to 16 walks. Zelenka was especially good in AMC play with a record of 6-0 and a 2.44 ERA in conference games. In six AMC starts, Zelenka had four complete games, two shutouts, 36 strikeouts and just six walks.
Zelenka was also voted as the first pitcher on the All-AMC first team. It is the second time that she garnered All-AMC honors as she was an All-AMC second team choice two years ago. The Trinity High School product transferred to Point Park as a sophomore from Fairmont State University. In three years, Zelenka was 22-15 with a 2.27 ERA in 274.1 innings. She totaled 206 strikeouts and 62 walks.
It is the second year in a row that the AMC Softball Pitcher of the Year award went to a Point Park player. Then-freshman Kelsey Robertson won that honor in 2010.
Also getting All-AMC honors Thursday was second team selection Lindsey Pesanka, a senior from Baldwin, Pa., who was recognized at second base. A four-year starter who led a resurgence of Point Park softball, Pesanka hit .307 with 18 RBIs and made only five errors this year. She moved to second base as a senior after playing shortstop the previous three years. Pesanka was Coultas' first recruit, and she hit .306 with 63 RBIs and a .944 fielding percentage for her career.
Taking home All-AMC honorable-mention honors were Julie Campbell, a junior first baseman from Baldwin, Pa., Nichelle Navarro, a junior right fielder from Buena Park, Calif., Amanda Ardinger, sophomore center fielder from Moon Twp., Pa., and Ashley Morran, a freshman shortstop/designated player from Washington, Pa.
Campbell led Point Park regulars with a .311 batting average and tied for third on the team with 18 RBIs. She was one of the team leaders in slugging at .491 hit a career-high three home runs.
Navarro, who transferred to Point Park this year from Golden West (CA) JC, hit .310 with 16 RBIs in her debut season with the Pioneers. The speedy right fielder hit .435 in AMC play from her No. 2 spot in the batting order.
Ardinger, a graduate of Moon Area High School, hit .310 with four homers and 18 RBIs. She tied for the team lead with seven doubles and led the Pioneers with 25 runs and five stolen bases. The starting center fielder was All-AMC first team and the AMC Freshman of the Year in 2010.
Morran, a former all-state player at Trinity High School in Washington, Pa., was Point Park's biggest power threat. She hit .282 with a team-high six homers and 26 RBIs. Morran clubbed five of her six home runs and batted .382 in AMC play. She split her time between shortstop and designated player.
Notre Dame (OH)'s Charisse Colston (RF) was the AMC Player of the Year and joined Coultas and Zelenka as the recipient of a top individual award in the conference. Zelenka was one of three pitchers on the All-AMC first team, and she was the Pitcher of the Year based on getting the most votes among the three. Pesanka was the only second baseman on the All-AMC second team, which named one player in each of the eight positions and also three pitchers.
Zelenka was pitching her best at the end of the year, and her pen-ultimate start was the best one of her career. On April 28, Zelenka tossed a near perfect game in a 1-0 victory over eventual AMC Tournament champion Notre Dame (OH). She carried a perfect game through 6.2 innings although it ended up being a one-hit shutout with five strikeouts and one walk.
That victory earned Point Park a share of the AMC Regular Season title and improved her conference record to a perfect 6-0. As the league's top pitcher, Zelenka was poised to carry Point Park through the AMC Tournament, but she was sidelined by a line drive to the head in the first inning of the Pioneers' tourney-opening victory May 6.
As it turned out, Point Park could have used Zelenka to shut down Notre Dame's strong bats as the Falcons were the only team that the Pioneers could not overcome. Point Park lost to Notre Dame, 6-0, in the winner's bracket final and then again 12-2 in the championship round. Zelenka was out for the rest of the season following her injury.