Point Park opens AMC Softball Tournament with 11-8 victory over Cedarville
May 4, 2011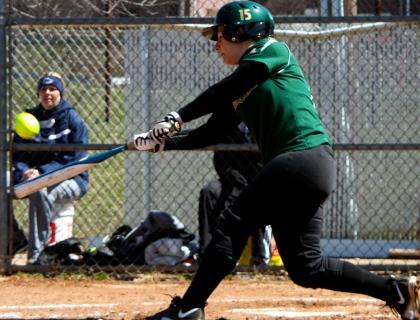 SOUTH EUCLID, Ohio -- Point Park University won its opening game in the American Mideast Conference Softball Tournament, 11-8, over Cedarville University Wednesday afternoon. The Pioneers (22-16, 10-4 AMC), the #2 seed in the four-team double-elimination tournament, advance to the winner's bracket to play #1 seed and tournament host Notre Dame (OH) Thursday at 1 p.m.
Cedarville, the #3 seed, played #4 seed Walsh on Wednesday night for the right to stay alive in the loser's bracket. The tournament continues through Friday with the champion advancing to the NAIA national tournament.
Point Park banged out 18 hits, erased an early, 4-0 deficit and survived the loss of its top pitcher in the first inning. Point Park starter Kristen Zelenka was struck by a line drive in the top of the first and missed the rest of the game. Shortly thereafter, the Pioneers fell behind 4-0.
But Point Park put together two five-run innings -- the fourth and the fifth -- to take the lead for good, 11-4. The Point Park offensive outburst was led by three hits apiece from Nichelle Navarro, Olivia Sorce and Danielle Dorunda. Sorce drove in three runs while Lindsey Pesanka and Amanda Ardinger knocked in two runs apiece. Ashley Morran, Sara Guffey and Ardinger contributed two hits each.
After Zelenka's departure, Kelsey Robertson took over and pitched six innings. She gave up only three hits, but her seven walks helped lead to four runs. Cedarville cut the lead to 11-6 with a couple of runs in the sixth, and Lindsey Inzana picked up her third save by pitching the seventh inning.