Point Park reaches AMC Softball Tournament Championship Round
May 5, 2011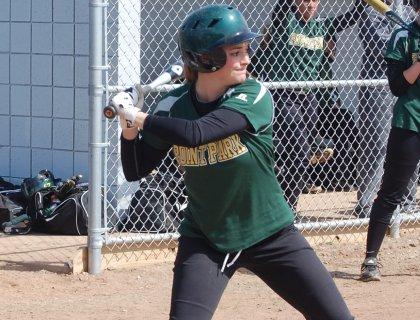 Olivia Sorce was 3 for 3 in the win over Walsh and is 6 for 10 in the AMC Tournament
SOUTH EUCLID, Ohio -- Point Park University defeated Walsh University, 4-1, Thursday afternoon in the loser's bracket final of the American Mideast Conference Softball Tournament and will play in the AMC championship round Friday morning versus top seed and host Notre Dame (OH) College.
Point Park (23-17) lost to Notre Dame (OH) in the winner's bracket final, 6-0, earlier in the day Thursday, but bounced back to avoid elimination versus Walsh (19-17). Point Park, the #2 seed, will faced #1 seed Notre Dame Friday at 10 a.m. with the championship on the line. If Point Park wins that game, it would need to win again at 12 p.m. to claim the title. Notre Dame needs just one win for the championship.
Point Park, which has its most wins ever under fifth-year coach Michelle Coultas, is in the AMC Tournament finals for the first time ever. The Pioneers made the playoffs this year after a two-year absence.
The Pioneers jumped out to a 4-0 lead over Walsh after three innings. The early advantage was held up by winning pitcher Kelsey Robertson (7-5), who did not give up an earned run in a complete-game effort. The sophomore from Frostburg, Md., struck out four, walked two and allowed just four harmless singles.
Olivia Sorce, a sophomore from Verona, Pa., was 3 for 3 to continue her hot hitting in the AMC Tournament. Sorce got Point Park on the board with an RBI single in the first, and three batters later, Julie Campbell delivered a run-scoring base hit for a 2-0 lead. The inning had started with a single by leadoff hitter Lindsey Pesanka and a sacrifice bunt from Nichelle Navarro.
In the third, a walk to Navarro and a base hit by Sorce set the stage for Amanda Ardinger's RBI groundout, and Campbell knocked in another run with a single after that. Campbell was 2 for 3 with two RBIs.
Robertson allowed an unearned run in the Walsh fourth, but she was not touched after that. She retired nine of the last 10 batters she faced with the only base runner during that span reaching on an infield error. Since her start versus Walsh on April 18, Robertson is 4-1 with a 2.26 ERA and an opponent's batting average of .215. She has both of Point Park's victories in the AMC Tournament.
In Thursday's loss to Notre Dame, Point Park was shutout on three hits, two of which came from Navarro. Notre Dame led, 4-0, after three innings, and a two-run homer by Ashley Harbarger stretched the lead out to 6-0 in the sixth.
Notre Dame's starter Christine Camp left the game after getting just one out and facing four batters in the top of the first. Point Park had the bases loaded in that situation, but Kim Lennox came on in relief to close the door. Lennox (7-3) got the victory with six strikeouts, no walks and two hits in 6.2 innings.
Point Park's Lindsey Inzana (6-7) went the distance with five strikeouts, two walks and nine hits allowed.
The winner of the AMC Tournament advances to the NAIA national tournament to be held May 19-25 in Gulf Shores, Ala. Point Park is 1-2 this year versus Notre Dame. The Pioneers won 1-0 but also lost 7-5 and 6-0.
Point Park enters the championship round without its top pitcher, Kristen Zelenka, who nearly threw a perfect game in the 1-0 win over the Notre Dame April 28. Zelenka, a senior from Washington, Pa., was struck in the head with a line drive in the first inning of Wednesday's tournament-opening win over Cedarville. She is out indefinitely. Zelenka carried a perfect game for 6.2 innings in her start versus the Falcons last week.