Point Park softball recruiting class rounds with with Eagan, Romano, Vogt, Romano
Aug. 2011
Rounding out Point Park University's 2012 softball recruiting class are four players entering the program as freshmen in the fall of 2011 -- Nikki Eagan (C, Langley HS), Gabi Vogt (IF, South Allegheny HS), Maria Romano (OF, New Castle HS) and Natalie Zivic (IF, Avonworth HS).
These four players add plenty of talent to Point Park's recruiting class, which includes a total of eight players. The Pioneers were 23-18 this past season and reached the championship round of the American Mideast Conference Tournament under head coach Michelle Coultas.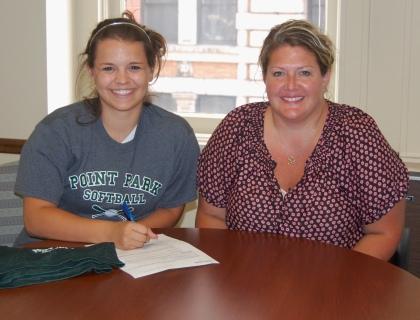 Nikki Eagan is a catcher from Pittsburgh, Pa., and Langley High School. She will add depth to the catcher position, an area that is always in need.
"Nikki is a solid addition to the team," said Coultas. "She's a good athlete, and we are glad to have her."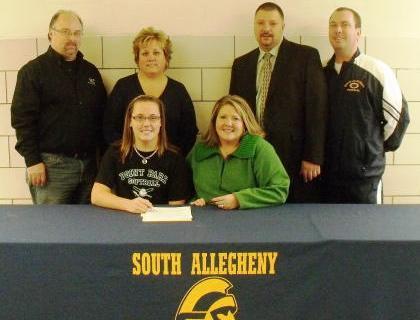 Gabi Vogt is an infielder from South Allegheny High School, and she was a two-time WPIAL all-section performer. She led South Allegheny to the PIAA playoffs this past year.
"Gabi is coming from a great program, works hard, is very coachable and has good power as an infielder," said Coultas.
Maria Romano is an outfielder from New Castle, Pa., and New Castle High School. A two-sport athlete, Romano will also play basketball at Point Park.
"Maria is an excellent athlete, she will play basketball here as well, she has speed in the outfield, and is a good addition to our program."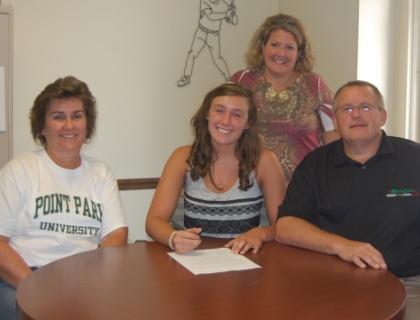 Natalie Zivic is an infielder from Avonworth High School. She batted .352 with three homers, two doubles and 16 RBIs this past season at Avonworth.
"Natalie has good power, comes in with a great attitude and is a great athlete who also was a starter in basketball," said Coultas.