Point Park University Pioneers Softball: 2012 Season Preview
March 2, 2012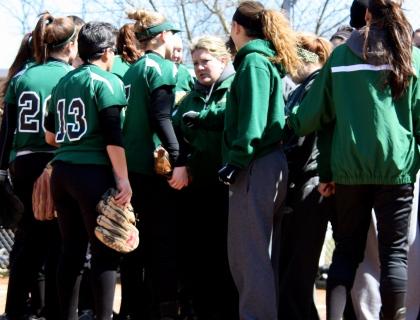 A veteran Point Park team is set for the 2012 season under head coach Michelle Coultas. Photo by Lyddia Ankrom.
DOWNLOAD SEASON PROSPECTUS (PDF)
The 2012 edition of the Point Park University softball team has plenty of returning talent from last year's team that reached the finals of the American Mideast Conference Tournament, and the Pioneers hope that means continuing their climb to being one of the top teams in the AMC. Although the AMC has a new look this year and is down to only five teams — four that are eligible for the postseason — Point Park still has its eyes on bringing home a conference title and advancing to the NAIA national championship tournament.
Head coach Michelle Coultas, now in her sixth year at her alma mater, has eight of nine position players returning as starters. The returning starters are joined by a crop of 10 newcomers — nine of which are freshmen — several of whom will challenge for spots in the field. The Pioneers do have some big shoes to fill on the pitching staff, but incoming talent will help to fill the void.
On the mound, the Pioneers will need to find some innings as they lost three of their top four starting pitchers. But junior Kelsey Robertson is back for her third year as a key arm on the staff. This year, however, Robertson, a native of Frostburg, Md., will be relied on to be the No. 1 starter. She is 13-7 with a 3.14 ERA in her career and pitched the Pioneers to the AMC finals last year when 2011 AMC Pitcher of the Year Kristen Zelenka went down with an injury early in the playoffs.
Zelenka was 7-2 with a 2.51 ERA last year and was the No. 1 starter the last three seasons. In her career, Zelenka was 22-15 with a 2.27 ERA in 274.1 innings. Also gone is Lindsey Inzana, who transferred out of the program after her freshman year. She was 6-7 with a 4.28 ERA and made 11 starts.
Point Park added to its pitching staff with a couple of freshmen and also a transfer who primarily plays the outfield. Freshman right-hander Kate Reese, a native of Cresson, Pa., was 10-2 with 140 strikeouts in 81 IP as a senior at Penn Cambria High School. Freshman righty Audrey Eisentrout, from Cumberland, Md., and Alleghany HS, was 16-1 as a senior last year. Ashlie Kuhn, a native of Cranberry Twp., Pa., is a transfer from Mercyhurst NE. She was an all-region player with a .347 batting average and 5 home runs but can also pitch.
In the field, the only player from last year's batting order that is not back is Lindsey Pesanka, a four-year starter in the middle infield. The Pioneers have a host of All-AMC players in their lineup such as junior outfielder Amanda Ardinger (.310, 4 HR, 16 RBIs), sophomore infielder Ashley Morran (.282, 6 HR, 26 RBIs), senior first baseman Julie Campbell (.311, 3 HR, 18 RBIs) and senior outfielder Nichelle Navarro (.310, 1 HR, 16 RBIs).
Also back are junior third baseman Danielle Dorunda (.297, 3 HR, 23 RBIs), junior middle infielder Olivia Sorce (.305, 13 RBIs) and senior outfielder Zoe Hughes (.269, 2 HR, 10 RBIs in 2010). Hughes was out with an injury in 2011, but was a two-year starter before that and a .319 career hitter. Other veteran players include junior catcher Sara Guffey and senior outfielder Larissa Banks.
Fifteen of the Pioneers' 27 players are in their first or second year on the team and 10 are newcomers. The sophomore class has several players vying for spots after a year of seasoning under their belts. Some of the nine freshmen also have a chance to break into the lineup.
There are five teams in the AMC in 2012 — Point Park, Carlow, Houghton (NY), Fisher (MA) and Walsh (OH). Houghton is in the first year of its softball program, Fisher has joined the AMC from the defunct Sunrise Conference and Walsh is ineligible for the AMC or NAIA postseason because it is in Year 2 of its NCAA Division II process.
The AMC Tournament will consist of the top four teams in the regular-season standings at the site of the first-place team. The winner of the tournament will advance to an Unaffiliated Group Championship to meet the winner of the Gulf Coast Athletic Conference. The AMC and the GCAC each fall short of the required six teams needed for an automatic bid to the national tournament. Instead, the leagues form and Unaffiliated Group with the winner making the national field.