Robertson pitches Point Park to victory in softball season opener, 1-0
March 4, 2012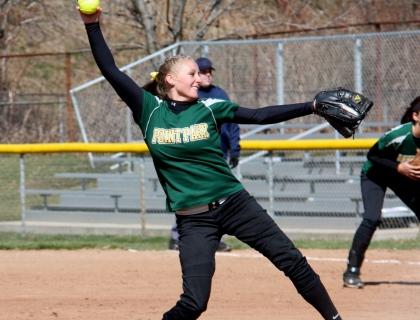 Kelsey Robertson got the W in Point Park's softball opener Sunday. File photo by Lyddia Ankrom.
KISSIMMEE, Fla. -- Junior pitcher Kelsey Robertson tossed a two-hit shutout on Sunday to lift the Point Park University softball team to a 1-0 victory over Clarke (Iowa) University in its season opener. It was the first game of the Pioneers' 10-game trip to the Rebel Spring Games in Kissimmee, Fla.
The Pionees (1-1) lost the second game of the doubleheader to Clarke (1-1) by a score of 11-1 in a game that ended after five innings.
Robertson, a junior right-hander from Frostburg, Md., allowed just two hits in seven innings, struck out nine and walked three. She picked up the shutout despite working out of a few jams, including having the bases loaded and less than two outs in the fifth.
But Robertson got out of it to maintain the 1-0 lead. The Pioneers got the only run of the game in the fourth inning when Ashley Morran singled, moved to second on a fielder's choice and came home on Julie Campbell's RBI single. Campbell is a senior first baseman from Baldwin, Pa.
Point Park had only three hits in the game.
Game two did not go well for the Pioneers as Clarke got out to a 6-0 lead after two innings and tacked on five more in the third. The Crusaders pounded out 11 hits in five innings and took advantage of three Point Park errors.
Freshman Kate Reese got the start for Point Park and went four innings. Fellow freshman Audrey Eisentrout pitched the fifth inning. Point Park had two hits, one of which was an RBI double by Sara Guffey.
The Pioneers continue their 10-game Florida trip with two games Monday. Point Park faces Ave Maria (FL) at 9 a.m. followed by Indiana Wesleyan at 11 a.m.
Follow us on Twitter @PointParkSports and Facebook.com/PointParkAthletics
Check back at the end of the softball trip for box scores and statistics