Point Park softball takes another split on Day 2 of Florida trip
March 5, 2012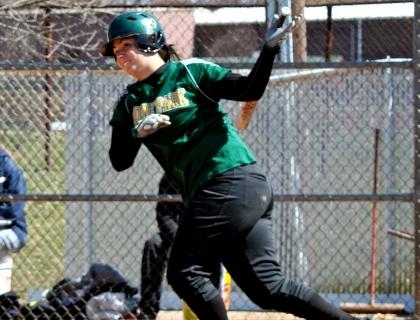 Sara Guffey had two hits in Monday's win over Indiana Wesleyan. File Photo.
KISSIMMEE, Fla. -- The Point Park University softball team split another two games on Monday, the second day of its trip to the Rebel Spring Games in Kissimmee, Fla. The Pioneers (2-2) started the day with a 12-7 win over Indiana Wesleyan before falling to Ave Maria (FL), 10-2, in five innings.
Point Park had opened its season Sunday by splitting a doubleheader with Clarke (IA). The Pioneers won the opener, 1-0, before dropping game two, 11-1, in five.
Monday's win over Indiana Wesleyan was the only time in the four games thus far that the Pioneers put together much offense. Senior Zoe Hughes and freshman Lauren Fevola each hit a solo homer to provide the big hits.
Sara Guffey, Courtney Manovich and Olivia Sorce collected two hits a piece to lead the offensive attack in support of starting pitcher Audrey Eisentrout. The freshman right-hander from Cumberland, Md., went five innings to pick up the first win of her college career.
Versus Ave Maria, Point Park fell behind early, 4-0, but Amanda Ardinger's two-run double cut the deficit in half. But Ave Maria stretched things out with some big innings and won, 10-2.
Kelsey Robertson was the tough-luck loser for Point Park, and she went all five innings. The Pioneers' defense made six errors behind her.
Point Park continues play at the Rebel Games though March 9. The Pioneers face Marian (IN) at 9 a.m. and Indiana Wesleyan at 11 a.m. on Tuesday.
Follow us on Twitter @PointParkSports and Facebook.com/PointParkAthletics