Point Park 2B Ashley Morran named NAIA Softball H.M. All-American
May 24, 2012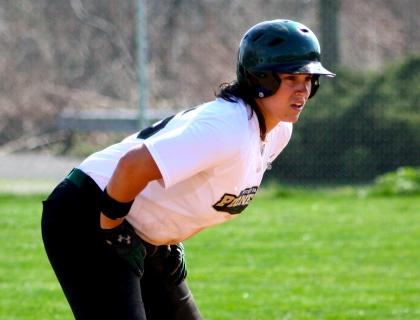 Ashley Morran hit .402 with 10 HR and 45 RBIs this year. Photo by Lyddia Ankrom.
PITTSBURGH -- Point Park University sophomore second baseman Ashley Morran was named an NAIA Softball Honorable Mention All-American with the announcement by the NAIA national office on Thursday (May 24, 2012).
Morran, a native of Washington, Pa., and Trinity High School, had an impressive year for the Pioneers (25-24, 11-3 AMC) by leading the team with a .402 batting average, 10 home runs and 45 RBIs.
The slugging second baseman hit cleanup for Point Park and also led the Pioneers in hits hits (51), doubles (9), slugging percentage (.724) and walks (15). She ranked 26th in the country in RBIs per game and 30th in the country in slugging percentage. Morran was 34th in the NAIA in homers per game.
Morran's honors this year also include being named to the All-AMC First Team and being one of the top candidates for AMC Player of the Year.
Morran has had a strong first two years at Point Park. In 79 career games, she is hitting .348 with 16 home runs and 71 RBIs. In high school, she was named WPIAL Player of the Year for Trinity.
Follow the Pioneers on Twitter @PointParkSports and Facebook.com/PointParkAthletics