Point Park softball opens season with two wins on Day 1 of Florida trip
Posted March 4, 2013 at 12:00 p.m. ET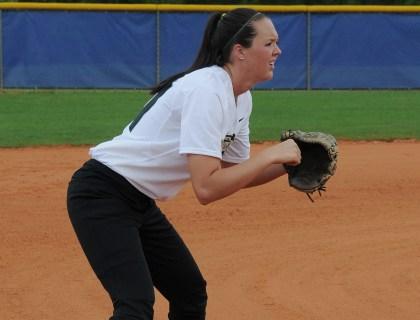 Danielle Dorunda was 5 for 5 with 3 RBIs in the Game 2 win over Grace (Ind.).
CLERMONT, Fla. – The Point Park University softball team opened its season with a couple of wins on Sunday night at the Dot Richardson NTC College Spring Games in Clermont, Fla. The Pioneers (2-0) had a long day that started with two exhibition games in the early afternoon. By the time they beat Lourdes (Ohio), 10-9, and Grace (Ind.), 14-12, it was nearly midnight.
In the exhibition games versus junior colleges, Point Park beat Macomb (Mich.) CC, 5-4, and then lost to Kalamazoo CC, 10-2 (5 inn.). That was in the early afternoon. Point Park's evening games were scheduled for 5 and 7 p.m. but ended up starting at 6 and 9 p.m.
The Pioneers got out their bats to pick up the two wins in the evening. The 10 runs versus Lourdes (0-2) came on nine hits, and were also aided by three errors by Lourdes, which is in its first-ever year of softball. Freshman Taylor Geary led off and played right field and turned in a 3-for-4 performance with one run and an RBI.
Amanda Ardinger was 1 for 3 with three runs scored, and Ashley Morran was 1 for 3 with two RBIs. The Pioneers were ahead, 5-1, after two innings and then tacked on four runs in the bottom of the sixth for a 10-4 lead.
It turned out Point Park needed all of those insurance runs because Lourdes scored five times in the top of the seventh to cut it to 10-9. Lourdes cleanup hitter Bre Megyesi clubbed a three-run homer to make it a one-run game with one out. Megyesi was 4 for 4 with two home runs and six RBIs.
Freshman pitcher Sarah Urchek, from Andover, Ohio, came in to get the last two outs and earn the save. She induced two ground outs after Megyesi's second bomb. She came on in relief of winning pitcher Kristen Zelenka, a senior from Washington, Pa.
Zelenka gave up 10 hits in 6.1 innings and also struck out seven and walked three. It was her first action in two years, and she is back with the team as a graduate student. She last pitched as a undergraduate senior in 2011.
In the 14-12 win over Grace (Ind.) (1-3), Point Park once again had a big seventh inning, and yet again, it turned out it needed all of those runs. The Pioneers scored seven times in the top of the seventh for a 14-9 lead. The seven-run outburst in the Point Park seventh came right after Grace scored three runs in the bottom of the sixth for an 11-7 lead.
There were plenty of hitting stars for the Pioneers, most notably senior third baseman Danielle Dorunda, who was 5 for 5 with three RBIs. Junior first baseman Courtney Manovich was 3 for 5 with an RBI, and senior catcher Sara Guffey was 2 for 4 with two RBIs. Turning in two hits apiece were Ardinger (2-3, RBI), Lauren Fevola (2-5) and LeAnne Blaeser (2-3, RBI).
Point Park used three pitchers in the nightcap victory, and sophomore Kate Reese worked the middle innings to get the win. She tossed 3.2 innings with four hits, one strikeout and no walks. Freshman Hannah Harley pitched the final inning in a non-save situation. Urchek got the start and lasted 2.1 innings.
The Pioneers' 12+ hour day on the diamond started with the 5-4 exhibition win over Macomb CC. Harley and Urchek combined on the pitching, and it was Urchek who got the win pitching the sixth and seventh innings. Geary was 3 for 3 with a walk, and Gabi Vogt was 2 for 2 with two walks.
Kalamazoo CC needed only five innings for its 10-2, exhibition victory over Point Park. Destiny James led the Point Park offense with a 2-for-3 performance, and Brea Magnone had a double.
Check the Point Park athletic Web site for box scores from Day 1 in Florida as they become available. Play continues in Clermont, Fla., throughout the week. The Pioneers play Clarke (Iowa) at 9 a.m. and Bellevue (Neb.) at 11 a.m. on Monday, March 4.
Follow the Pioneers on Twitter @PointParkSports and Facebook.com/PointParkAthletics