Pioneers rebound to beat Lourdes, 7-4, after losing to Cornerstone, 9-1
March 5, 2013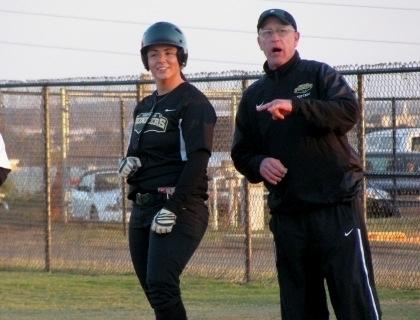 Sara Guffey, with first-base coach Rob Ferrari, was 3 for 4 in the win over Lourdes. Photo by Lauren Jones.
CLERMONT, Fla. -- The Point Park University softball rebounded from a 9-1 loss to Cornerstone (Mich.) earlier in the day to beat Lourdes (Ohio), 7-4, on Tuesday, and will take a 4-2 overall record into its off day Wednesday at the Dot Richardson NTC College Spring Games in Clermont, Fla.
Point Park (4-2) had a game it wanted to forget versus Cornerstone (Mich.) (5-1), as it fell behind, 5-0, after the first inning and 7-1 after three. The Pioneers had only four hits in the game, and two of them produced their only run -- a triple by Ashley Morran and a single by Courtney Manovich -- in the second inning.
Sarah Urchek and Rachel Hopfer were the pitchers versus a powerful Cornerstone club that got 14 hits in its five innings at bat.
But the Pioneers bounced back in their second game of the day to beat Lourdes (1-5). Point Park banged out 12 hits, and seven different players had at least one hit to back winning pitcher Hannah Harley.
Harley, a freshman from Indiana, Pa., went all seven innings and gave up just two earned runs on seven hits. She totaled three walks and two strikeouts. She was down, 4-2, after three innings but hung in there and blanked Lourdes over the final four innings.
Trailing, 4-3, Point Park took the lead for good with a three-run rally in the fifth. After singles by Olivia Sorce and Amanda Ardinger, Morran ripped a two-run double. Later in the inning, Gabi Vogt stroked an RBI base hit. Senior catcher Sara Guffey, who was 3 for 4, also had a base hit to keep the inning going.
Ardinger, Morran and Destiny James had two hits apiece. Ardinger and Sorce scored two runs each in setting the table for the middle of the order.
After the off day on Wednesday, Point Park gets back in action on Thursday vs. Bellevue (Neb.) at 9 a.m. and Ave Maria (Fla.) at 11 a.m. The Pioneers have their final day in Florida on Friday with dates versus Spring Arbor (Mich.) and Adrian (Mich.) at 5 and 7 p.m.