Point Park rallies to beat Fairmont State, 9-8, forces split in non-conference DH
April 3, 2012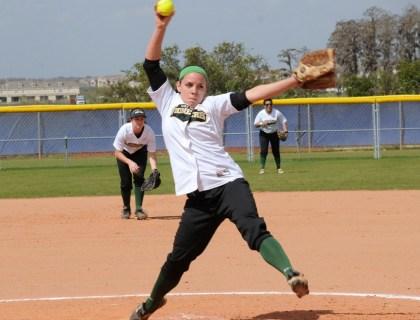 Kate Reese gave up only two runs to win Game 2 in 5.2 IP of relief. Photo by Alice Fevola.
KENNEDY TWP, Pa. -- The Point Park University softball team rallied for six runs in the bottom of the sixth to turn an 8-3 deficit into a 9-8 victory in the second game of a non-conference doubleheader Tuesday at Lind Field at Fairhaven Park. The Pioneers (16-12) had lost game one, 9-5.
By the time Fairmont State (18-15) took a 6-0 lead after two innings of game two, it had already hit seven homers on the day. The Falcons smashed four homers in game one, and got right back at it with three homers in the first two innings of game two.
Point Park was down 8-3 entering its half of the sixth. The Pioneers sent 12 batters to the plate and came away with six runs on three hits and three errors.
Julie Campbell ripped a two-run single to tie the score at 8-8, and Gabi Vogt brought home the eventual game-winning run on an RBI single with one out. Campbell and Vogt each had two hits in the game.
The inning had started with Vogt getting hit by a pitch, Zoe Hughes reaching on the first of three erorrs in the inning and Nichelle Navarro loading the bases on a fielder's choice. A run came home when Olivia Sorce reached on a fielder's choice, and Amanda Ardinger's bases-loaded walk forced in another run.
Ashley Morran's infield single brought home a run to make it 8-6, which set the stage for Campbell's game-tying single. Morran was 3 for 4 with two RBIs.
Kate Reese (4-3) got the victory for Point Park in 5.2 innings of relief. The freshman from Cresson, Pa., and Penn Campbria High School held a strong-hitting Falcons team in check on five hits and two runs. She struck out three and walked three.
Point Park totaled 11 hits in game two. Fairmont State had 10 hits, but it was done in by four errors.
Fairmont State banged out 10 hits in game one as well, and four of those were home runs. The Falcons took a 5-3 lead on Amanda Skidmore's three-run homer in the third inning.
After Point Park had clawed back to tie the score at 5-5, Fairmont State got a solo homer by Abbey Wilson in the sixth and back-to-back homers by Gretchen Herzberger (a two-run shot) and Sarah Parsons in the seventh to go up, 9-5.
Morran jacked two home runs in the game one -- a two-run shot in the first and a solo homer in the third -- to give her seven on the year. Morran was 2 for 2 with three RBIs and a walk.
Ardinger drove in two runs, including an RBI single that tied it at 5-5 in the fifth -- but Point Park didn't have enough to keep up with the Falcons' home run balls.
Nikki Nuzum got the win for Fairmont State in the opener. She went all seven innings with seven strikeouts and three walks. Point Park had runners at first and second with no outs in the fifth, sixth and seventh innings but managed just one run in  that stretch.
Kelsey Robertson (8-4) took the loss for Point Park in game one. Six of the nine runs charged to her were earned.
Point Park gets right back into non-conference play with Wednesday's home doubleheader vs. West Liberty on Wednesday at 3 p.m.
Follow us on Twitter @PointParkSports and Facebook.com/PointParkAthletics