Point Park splits non-conference doubleheader at Geneva; W, 2-0, L, 4-1
March 17, 2012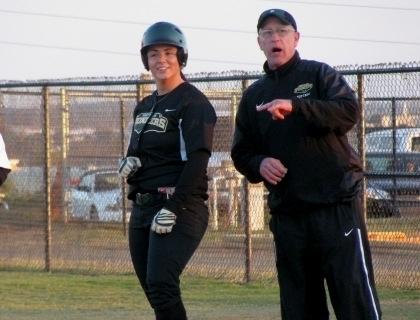 Sara Guffey had a two-run homer in the Pioneers' 2-0 win over Geneva. Photo courtesy of Alice Fevola.
BEAVER FALLS, Pa. -- Playing its first games since returning from its spring trip to Florida, the Point Park University softball team won 2-0 and lost 4-1 at Geneva College in a non-conference doubleheader Saturday.
The Pioneers (4-8) were the home team for both games. The games were originally scheduled for at Point Park, but the venue was changed midweek.
In the 2-0 victory over Geneva (9-7), Kelsey Robertson (W) and Audrey Eisentrout (S) combined on the four-hit shutout. The Pioneers needed only three hits to win. Sara Guffey ripped a two-out, two-run homer in the fourth after Zoe Hughes had led off with a single.
Robertson, a junior right hander from Frostburg, Md., gave up four hits in six scoreless innings to get the victory. She struck out four, walked four and did not allow a runner past second base.
Eisentrout, a freshman from Cumberland, Md., started her only inning of work with a walk in the seventh. But she quickly got a double play and a pop out to finish off the game and earn the save.
Geneva pitcher Julie DiNardo threw two complete games for the Golden Tornadoes. She allowed only six hits on the day and her victory in game two gave her the all-time lead at the school. In the 4-1 win, DiNardo struck out eight, walked none and faced only four batters over the minimum.
Just like in the first game, all of Point Park's run production came from the long ball. Amanda Ardinger's homer that cut it to 4-1 in the sixth was the only blemish against DiNardo in that game.
Point Park's other two hits in the nightcap were both doubles. Nichelle Navarro doubled with two outs in the third and stole second but was stranded. Lauren Fevola ripped a two-out double in the fifth but was left on.
Geneva's four runs came on nine hits, and the Golden Tornadoes got out to a 4-0 lead after four innings. Lori Deem's two-run single came in the second inning, and Geneva used three singles and a walk to plate to runs in the fourth.
Ashlie Kuhn took the loss in game two for Point Park. She gave up eight hits over six innings, struck out two and walked two. Kate Reese worked one inning and gave up one hit.
DiNardo still only gave up three hits in the first game -- one of which was Guffey's homer -- but she walked four and struck out six.
Point Park visits Pitt-Greensburg on Sunday in a non-conference doubleheader scheduled for 1 p.m.
Follow us on Twitter @PointParkSports and Facebook.com/PointParkAthletics