Pioneers take 1 of 2 from Malone to open home softball schedule
March 21, 2012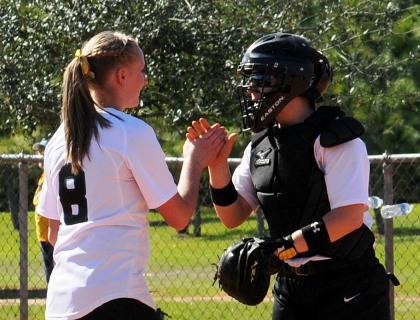 Kelsey Robertson (8) got the victory on Wednesday and is pictured with Lauren Fevola. Photo by Alice Fevola.
KENNEDY TWP., Pa. -- The Point Park University softball team opened its home schedule on Wednesday with a 7-5 victory over Malone University but lost game two of the non-conference doubleheader, 4-0.
It was the fifth time this year that Point Park (6-10) opened a doubleheader with a victory but lost game two. The Pioneers are 1-7 when playing their second game in a day but 5-3 otherwise.
The Pioneers took control of their 7-5 win with five runs in the fourth inning and held off a late Malone rally for the victory.
Point Park's five-run outburst in the fifth put the Pioneers ahead, 7-3. The big inning included two hits, three walks and an important outfield error. Malone (4-13) made four errors in the game. Julie Campbell had a key, RBI double in the inning, and Sara Guffey started the rally with a single for one of her two hits.
Kelsey Robertson (5-3) got the complete-game victory in game one. The junior from Frostburg, Md., struck out seven, walked four and scattered eight hits.
Malone had a couple of RBI singles in the top of the seventh to cut it to 7-5 and had the tying run at the plate with two outs, but Robertson got a strikeout to end the game.
Point Park totaled six hits off of two Malone pitchers -- Stephanie Bryne and Nicol Chesley -- who each went 3.0 innings.
In game two, Desi Givens' grand slam with two outs in the fifth inning accounted for all the scoring in Malone's 4-0 victory. A walk and two singles loaded the bases with two outs versus Point Park starter Ashlie Kuhn. Givens followed with her fifth hit of the day. She was 4 for 4 in game one.
Point Park managed just four hits off Malone's Shelby Snyder, who struck out six and walked none in the complete game shutout.
Point Park put runners in scoring position with less than two outs in the second and fourth innings but was 0 for 4 with runners in scoring position in the game. Point Park had runners at second and third with one out in the fourth, but Snyder got the next two hitters in succession to start a string of retiring 11 of the final 13 she faced.
Kuhn (0-4) was saddled with the loss in five innings of work. She struck out one, walked two and gave up five hits. Kate Reese threw the last two innings and gave up no runs on two hits.
Point Park returns to non-conference action with Friday's home doubleheader versus SUNY-Canton at 3 p.m. In what is a busy weekend, the Pioneers visit Notre Dame (OH) on Saturday and travel to Ursuline on Sunday.
Follow us on Twitter @PointParkSports and Facebook.com/PointParkAthletics