Point Park softball takes two tough losses at Rebel Spring Games
March 8, 2012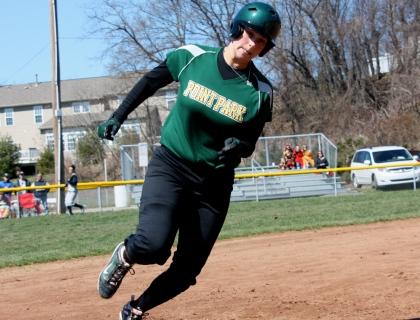 Point Park's Ashley Morran was 3 for 4 with a two-run homer and three RBIs. File photo by Lyddia Ankrom
KISSIMMEE, Fla. -- The Point Park softball team took two tough losses on Thursday at the Rebel Games, although they were tough for opposite reasons. The Pioneers lost a heartbreaker, 8-7, to Ave Maria (FL) in eight innings, and then were routed by Indiana Wesleyan, 10-1, in five innings.
The Pioneers (2-6) conclude their 10-game trip to the Rebel Games with two games on Friday. Point Park faces Spring Arbor (MI) at 1 p.m. and Valley City State (ND) at 3 p.m.
In the 8-7 loss to Ave Maria on Friday, Point Park's Ashley Morran was 3 for 4 with a two-run homer and three RBIs. Danielle Dorunda also had a two-run homer for Point Park and finished 2 for 4.
But Point Park was on the losing end. In the international softball rules that place a runner on second base to start each extra frame, Ave Maria pushed across the winning run in the bottom of the eighth after an error and two singles.
In the top of the eighth, the Pioneers started things by sacrificing the runner to third, but a couple of flyouts ended the threat.
Freshman Kate Reese went four innings as the Point Park starter versus Ave Maria. Ashlie Kuhn went the last three-plus innings on the mound.
Indiana Wesleyan took control its 10-1 victory with eight runs in the second inning. The outburst included two hits, two walks and four errors. Kelsey Robertson took the loss for Point Park amid the defensive breakdowns.
Point Park was held to two hits. Olivia Sorce had an RBI single, and Zoe Hughes doubled.
Follow us on Twitter @PointParkSports and Facebook.com/PointParkAthletics