Point Park manages split with West Liberty: W, 3-1; L, 1-0
April 4, 2012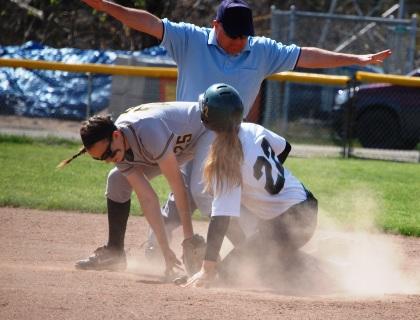 Olivia Sorce (22) stole second in the first inning and later scored the eventual winning run. Photo by Adrianne Bruce.
KENNEDY TWP., Pa. -- The Point Park University softball team managed a doubleheader split with visiting West Liberty University on Wednesday at Lind Field at Fairhaven Park, although the Pioneers were shutout for the final 12 innings of the day.
Point Park (17-13) scored three runs in the first two innings of game one and held on for a 3-1 victory. West Liberty (7-30) shut Point Park down from that point on and took game two, 1-0.
Point Park got to West Liberty's game-one starter Sarah Slenski, who lasted only 1.2 innings. Nichelle Navarro, who had two of Point Park's five hits and scored two runs, led off the bottom of the first with a base hit.
Olivia Sorce followed with a single and a stolen base, which set the stage for Sara Guffey's RBI, infield single. An error on the play allowed Sorce to score from second on what was the eventual game-winning run.
Point Park padded its lead to 3-0 on Amanda Ardinger's run-scoring base hit with two outs in the second. But then West Liberty went to its bullpen, and Sara Emerich held Point Park hitless in her 4.1 innings on the mound. Emerich walked the first batter she faced but then retired the last 12 batters she faced.
Point Park's early offense stood up as winning pitcher Kelsey Robertson (9-4) went five innings, and Audrey Eisentrout picked up her third save in two innings of work.
Robertson, a junior from Frostburg, Md., gave up 10 hits but battled out of some jams to keep the Hilltoppers off the board. She struck out two and walked none, and the only time she gave up a run, West Liberty needed three singles to push across a tally in the fifth.
But the Hilltoppers left the bases loaded that inning, just like they did in the second.
Eisentrout, a freshman from Cumberland, Md., gave up one hit in her two innings with one strikeout and no walks.
Game two feautred Point Park starter Kate Reese and West Liberty hurler Angela Johnson squaring off in a pitcher's duel. Both starters went five innings before letting the bullpens decide things.
Reese, a freshman from Cresson, Pa., got a no-decision despite allowing just one hit in five shutout innings. She struck out six, walked none and left the game with the score 0-0 after five innings.
Johnson was just as good as she allowed just two hits, struck out nine and walked one. Like Reese, she left the game with the score 0-0.
With only one hit to that point, West Liberty got a double from Maggie Starr and a single by Leanna McMillen to start the top of the seventh. That put runners at first and third for Felicia Huhlslander, who lifted a sacrifice fly to right-center field to produce the winning run.
Eistentrout (3-2) took the loss in two innings of work. All three hits she gave up came in the seventh. She struck out one and walked none.
Becky Fortuna (3-13) got the win in relief. She allowed a two-out single in the seventh, but the Pioneers couldn't get the tying run in.
An inning earlier, Point Park had runners at first and third with one outs but could not take advantage as Fortuna came on to get out of the jam. Point Park was 0 for 7 with runners in scoring position in the game.
Point Park is off until Tue., April 10 when it hosts Carlow for an AMC doubleheader. Game time at Lind Field at Fairhaven Park is 3 p.m.
Fan Vans will be available for that game for Point Park students. Fan Vans leave the Student Center Lot at 2:30 & 3:30 p.m. with return service after each game. Free with Student ID.
Follow us on Twitter @PointParkSports and Facebook.com/PointParkAthletics