Point Park settles for split at Pitt-Greensburg; wins 6-1, loses 6-5 in nine innings
March 18, 2012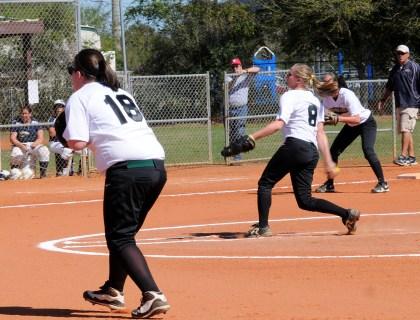 Julie Campbell (18), Kelsey Robertson (8) and Danielle Dorunda (3B) led the Pioneers to a win. Photo by Alice Fevola.
GREENSBURG, Pa. -- The Point Park University softball team settled for a doubleheader split at non-conference Pitt-Greensburg on Sunday. The Pioneers (5-9) won the first game, 6-1, but lost the second game, 6-5, in nine innings after giving up the lead in the bottom of the seventh.
Point Park pounded out 10 hits in support of winning pitcher Kelsey Robertson (4-3) in the opener. Robertson went five innings and gave up just one run on four hits. The junior from Frostburg, Md., struck out five and walked one.
Senior first baseman Julie Campbell, a native of Baldwin, Pa., was 2 for 3 with two RBIs. Campbell ripped an RBI single in the second inning and then clubbed a solo homer in the sixth for a 6-1 lead.
Junior third baseman Danielle Dorunda, from Warren, Pa., was 2 for 3 with an RBI and two runs scored. She hit her second home run of the year -- a solo shot -- to give Point Park at 4-1 lead in the fourth.
Nichelle Navarro was 2 for 4, and Zoe Hughes contributed an RBI double. Ashlie Kuhn pitched the final two innings without giving up a hit or a run.
Point Park took control of game two after its three-run fifth inning resulted in a 3-1 lead. The rally started when Gabi Vogt reached on an error and Abby Mathieu connected on a bunt single. Navarro followed with a run-scoring single, and Brea Magnone came through with a two-run single with two outs.
But Pitt-Greensburg tied things up at 3-3 with a pair of runs in the last of the seventh. The Pioneers and reliever Audrey Eisentrout were almost out of it, but an error with two outs extended things long enough for Nicolette McHugh's two-run single to force extra innings.
Following the international, extra-inning rule that places a runner at second base to start each extra frame, each team pushed across a run in their half of the eighth. Point Park's tally came home on a wild pitch, and Pitt-Greensburg's came in after a bunt and a fielder's choice.
Point Park scored again in the top of the ninth for a 5-4 lead as Natalie Zivic's sacrifice bunt was followed by Campbell's pinch-hit, RBI single.
Pitt-Greensburg put the pressure on the bottom of the ninth as the first two batters reached on a bunt single and an infield error to load the bases. A couple of RBI singles, the second of which came from McHugh, won the game.
Kate Reese got the start for Point Park in game two, and the freshman from Cresson, Pa., gave up one run on two hits in six innings. She struck out three and walked three. Eisentrout, a freshman from Cumberland, Md., came on in the seventh.
Point Park's next action is a home doubleheader versus Malone on Wednesday. The first game is at 3 p.m. at Lind Field at Fairhaven Park in McKees Rocks, Pa. The games were originally scheduled for at Malone, but the venue was moved.
Follow us on Twitter @PointParkSports and Facebook.com/PointParkAthletics