Point Park sweeps AMC doubleheader from cross-town rival Carlow
April 10, 2012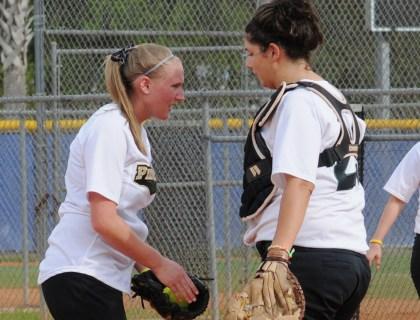 Kelsey Robertson and Sara Guffey worked the shutout in Game 1, 2-0. Photo by Alica Fevola.
KENNEDY TWP., Pa. -- Point Park University won both ends of an American Mideast Conference softball doubleheader versus visiting Carlow University on Tuesday at Lind Field, 2-0 and 9-7.
In a matchup of the top two teams in the AMC, Point Park (19-13, 6-0 AMC) came out victorious over Carlow (25-8, 7-3 AMC) and remained in first place in the conference.
Before getting back into conference play Monday and Tuesday versus Walsh and Carlow, Point Park will continue to test itself in the non-conference schedule versus NCAA Division II schools. The Pioneers play at Slippery Rock Thursday,  home versus Gannon on Friday and at Notre Dame (OH) on Saturday.
Kelsey Robertson (10-4), a junior right-hander from Frostburg, Md., tossed a complete-game shutout in Point Park's 2-0 win to start the day. She carried a no-hitter through the first 5.1 innings and ended up yielding three hits.
A couple of singles and a walk in the Carlow sixth inning amounted to the only serious threat against Robertson, who got out of the bases-loaded jam with a fly ball to left field to preserve the 1-0 lead.
Point Park got an insurance run on Ashley Morran's solo homer -- her eighth of the year -- in the  bottom of the sixth.
Point Park totaled just five hits in the opener, but it was enough to win. Nichelle Navarro and Olivia Sorce both got an infield single in the bottom of the first. After a fielder's choice by Amanda Ardinger put runners at first and third, Navarro came home to score on the back end of a double steal.
Aside from Navarro going 2 for 3 and Morran 1-3 with a home run, Point Park did not put up much other offense versus losing pitcher Emily Pritts (7-4). The freshman from Beaver Falls, Pa., who came in with a sub-2.00 ERA struck out seven, walked none and gave up two runs on five hits in a complete game.
Robertson finished with seven strikeouts, three walks and three hits against. After allowing the first two batters of the game to reach on a walk and a fielder's choice, she set down 14 of the next 15 she faced.
Carlow came alive for four runs in the top of the first inning of game two, but Point Park responded with five runs in its half of the first for a 5-4 lead.
Point Park's five-run rally included a sacrifice fly from Morran, a two-run single from Julie Campbell and an RBI groundout by Danielle Dorunda. Another run came home on the first of four errors by Carlow in the game.
Sara Guffey was 3 for 4 to lead Point Park's 12-hit attack. She followed Morran's RBI single in the second inning with a run-scoring base hit of her own for a 7-4 lead.
Dorunda, who had two RBIs, belted a solo homer in the fifth to increase the lead to 8-4, and run scored on an error in the sixth.
Carlow, which totaled 10 hits, made the final margin two runs by scoring three times in the top of the seventh. An RBI double by Rachel Blonski and an RBI single by Taylor Sirko brought the tying run to the plate in the top of the seventh, but winning pitcher Ashlie Kuhn got out of it.
Kuhn (2-4), a junior right-hander from Cranberry Twp., Pa., pitched the final five innings in relief. She gave up three runs on four hits and survived six walks with the help of two double plays and an error-less defense.
Ardinger and Navarro each had two hits in the second game to join Guffey as players with a mutli-hit game. Carlow starter Melissa Constantini (7-2) lasted one inning and took the loss.
Follow us on Twitter @PointParkSports and Facebook.com/PointParkAthletics