Robertson's no-hitter highlights Point Park's AMC split with Walsh
April 16, 2012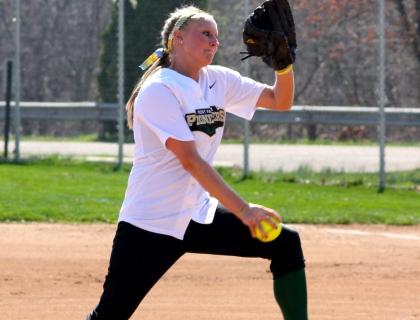 Kelsey Robertson threw a no-hitter in Monday's 5-0 win over Walsh. Photo by Lyddia Ankrom.
KENNEDY TWP., Pa. -- Junior right-hander Kelsey Robertson threw a no-hitter in Point Park University's 5-0 victory over Walsh University in the first game of an American Mideast Conference softball doubleheader at Lind Field at Fairhaven Park on Monday. Walsh won the second game, 6-2, but it was Robertson's first-career no-hitter that highlighted the day.
Robertson, a native of Frostsburg, Md., and a product of Mountain Ridge High School, shut down a good-hitting Walsh team that entered the day with a .349 team batting average.
Robertson had to deal with some base runners as she walked four and hit a batter, but she never allowed a hit. She was the beneficiary of a few nice stabs by infielders keeping balls from going through and a couple nice plays by a speedy outfield.
But it all worked out to keep Walsh hitless as Robertson mixed in six strikeouts, five ground outs, six fly ball outs and four pop outs on the infield.
Point Park (20-20, 7-1 AMC) will visit Walsh (29-15, 11-3 AMC) on Friday at 3 p.m. The other team in contention at the top of the AMC standings is Carlow (26-9, 8-4 AMC), which hosts Point Park Tuesday (April 17) at 6:30 p.m.
Robertson was proctecting a 1-0 Point Park lead built on Sara Guffey's solo homer in the fourth before the Pioneers added on in the later innings.
Losing pitcher Erin Ebert (13-7) provided a tough opponent, but Point Park extended the lead to 2-0 in the fifth as Amanda Ardinger provided a clutch, two-out RBI. The junior left fielder from Moon Twp., Pa., was 3 for 3 with three singles and an RBI.
Zoe Hughes provided more breathing room with her two-run single with two outs in the sixth. Earlier in the inning, Julie Campbell singled and Gabi Vogt was hit by a pitch. Both runners moved up on a wild pitch, and Hughes laced her base hit to right field to score two. Hughes later came around to score on an error.
With the 5-0 lead, Robertson needed only five pitches to work a 1-2-3 seventh and finish off the no-hitter. A ground out to second, a fly ball to center and a pop up to shortstop ended it.
She had been close to a no-no a few times this year. She carried a no-hitter through 5.1 innings of a three-hit shutout of Carlow April 10. She tossed a 1-hit shutout of Houghton on March 30. Also, Robertson held Clarion to zero hits on March 28, but left the game after five innings due to reaching a pre-determined pitch count.
In the second game, Walsh pitcher Kelsey Ford was the best player. Not only did she get the victory with 10 strikeouts and one walk in a complete game, she also hit a three-run homer to give the Cavs a 4-0 lead in the fourth.
Point Park's Ashley Morran was 2 for 3 with a pair of RBI singles, the first of which cut the deficiti to 4-1 in the fourth. Olivia Sorce had doubled to start the inning and get the first hit off of Ford.
Morran added another RBI single in the sixth to get the Pioneers within 6-2.
Point Park managed five hits as a team but could not get any rallies started with the way Ford was piling up the strikeouts.
Kate Reese (4-4) took the loss after giving up four runs in four innings. She set down the first six batters she faced but gave up a leadoff homer in the third and Ford's blast in the fourth.
Ashlie Kuhn pitched the last three innings and gave up two runs, one of which was unearned.
Follow us on Twitter @PointParkSports and Facebook.com/PointParkAthletics