Point Park 2nd of 8 teams in 2013 KIAC Softball Preseason Coaches' Poll
Jan. 28, 2013 at 10:30 p.m. ET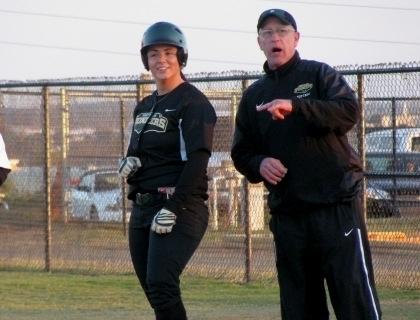 Senior catcher Sara Guffey and the Pioneers are picked 2nd in KIAC Softball Preseason Poll. Photo by Alice Fevola.
PITTSBURGH -- Point Park University was picked second of eight teams in the 2013 Kentucky Intercollegiate Athletic Conference Softball Preseason Coaches' Poll. The poll was voted on by KIAC softball head coaches and was released by the league office on Sunday (Jan. 27, 2013).
Point Park, which is a newcomer to the KIAC this year, got 45 points in the poll and garnered one first-place vote. The Pioneers were 25-24 overall and 11-3 AMC last year in their final season in the American Mideast Conference.
Indiana Southeast, which is ranked No. 20 in the NAIA Softball Preseason Coaches' Top 25 Poll, was picked as the clear KIAC favorite with four of eight first-place votes and a comfortable lead in the poll with 59 points. The Grenadiers were 34-20 overall, 18-2 KIAC and made it to the championship round of Pool Play at the NAIA Softball National Championship for a No. 15 final ranking.
Starting with Point Park in second place with 45 points, the KIAC preseason poll is bunched up with the next few teams. Another KIAC newcomer, Carlow, is third with 44 points and two first place votes followed by Brescia (Ky.) in fourth with 43 points and the final first-place vote.
Carlow was 36-14 overall, 10-6 AMC last year and beat Point Park in the AMC Tournament finals. Brescia (Ky.) had a strong record of 29-19 overall and was second place in the KIAC last year at 15-5, but was relegated to fourth in this year's preseason with the addition of Point Park and Carlow.
Asbury (Ky.) is fifth in the poll and is not far behind with 37 points despite coming off a 5-47 overall and 2-18 KIAC showing last year. The preseason poll is rounded out by Berea (Ky.) (18-18, 11-9 KIAC) with 28 points, Midway (Ky.) (13-21, 10-10 KIAC) with 23 points and Alice Lloyd (Ky.) (4-20, 4-16 KIAC) with nine points.
Each KIAC team will play a busy, 28-game conference schedule that includes four games versus each of the other seven schools in the league. All teams will play a doubleheader home and away versus each KIAC school. Point Park spends much of the month of March in Kentucky and is home in Pittsburgh for much of April.
Point Park has 6 of 9 positions starters and all four starting pitchers returning from last year's team. The Pioneers have reached the conference tournament finals the last two years.
Junior second baseman Ashley Morran, from Washington, Pa., is the Pioneers' top player. She was NAIA Honorable Mention All-American last year with a .402 average, 10 homers and 45 RBIs.
Other top returning starters are outfielder Amanda Ardinger (.310, 2 HR, 24 RBIs), a senior from Moon Twp., Pa, shortstop Olivia Sorce (.306, 1 HR, 17 RBIs), a senior from Verona, Pa., and catcher Sara Guffey (.276, 4 HR, 19 RBIs), a senior from Washington, Pa.
Senior pitcher Kelsey Robertson (13-10, 3.16 ERA), from Frostburg, Md., was All-AMC First Team last year and is the top returning pitcher. Also back are sophomore Kate Reese (6.50, 4.20 ERA), senior Ashlie Kuhn (3-7, 4.86 ERA) and sophomore Audrey Eisentrout (3-2, 5.85 ERA).
The Pioneers open their season March 3-8 at the Dot Richardson National Training Center College Spring Games in Clermont, Fla.
Follow the Pioneers on Twitter @PointParkSports and Facebook.com/PointParkAthletics