Point Park pounds SUNY-Canton, 15-2 and 8-0, sweeps doubleheader
March 23, 2012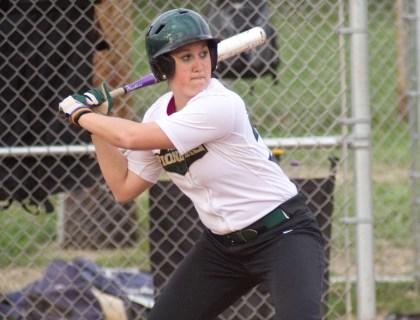 Teresa Davis hit two home runs in game two on Friday. Photo by JP Pelc
KENNEDY TWP., Pa. -- The Point Park University softball team pounded SUNY-Canton with its offense and also got two outstanding pitching performances from a couple of freshmen two sweep the non-conference doubleheader by scores of 15-2 and 8-0 on Friday at Fairhaven Park.
Point Park (8-10) scored nine runs in the first inning and clubbed a total of 16 hits in only four times at bat in game one. The game ended after five innings due to the mercy rule.
Point Park freshman pitcher Audrey Eisentrout, from Cumberland, Md., gave up a two-run homer to Emily Walters in the first inning, but that was the only hit the Kangaroos had in the game. Eisentrout (2-1) went all five innings, struck out nine, walked one and gave up just the one hit.
After giving up the homer in the first inning, Eisentrout retired 13 of the 14 batters she faced the rest of the way.
With Eisentrout dealing on the hill, Point Park scored 15 unanswered runs. The nine runs in the first inning came on seven hits and two errors. The Pioneers sent 14 batters to the plate, and five of the runs were unearned.
Ashley Morran was 3 for 3 in the game, and two of her hits came in the first inning. One of those hits was a two-run double early on in the outburst. The inning also included RBI singles from Amanda Ardinger and Nichelle Navarro and a two-run double from Olivia Sorce.
Point Park went back at it in the third inning with five more runs. Pinch hitters Abby Mathieu and Destiny James started the inning with a pair of singles. Then, a third straight pinch hitter, Sarah Prosser, ripped a three-run homer. It was the first-career long ball of the freshman from Altoona, Pa., and Bishop Guifoyle HS.
Morran followed with a single, and with two outs, Danielle Dorunda belted an RBI double and Julie Campbell an RBI single. Dorunda was 2 for 4 with two doubles. James ended up 2 for 2 with two runs off the bench.
In game two, Kate Reese notched her first-career shutout, an 8-0 victory in six innings. The freshman from Cresson, Pa., and Penn Cambria HS gave up five hits, struck out eight and walked none. In her last 18 innings of work, Reese has given up only one run.
Teresa Davis provided most of the offense in game two as the sophomore catcher from Vermilion, Ohio, had two home runs and five RBIs. She belted a two-run homer in the second for a 2-0 lead. Two innings later, she added a three-run shot to put the Pioneers ahead, 5-0.
Torrie Lee Chapman added a two-run single in the sixth, and two batters later, Larissa Banks drove in a run with an infield single to put the eight-run mercy rule into play.
James and Banks were the No. 1-2 hitters in the lineup and were each 2 for 4. Natalie Zivic was 2 for 3 with a triple. She was one base for both homers by Davis, who was 2 for 3.
Point Park continues its busy weekend with a road trip to the Cleveland area Saturday and Sunday. The Pioneers have a rematch of last year's AMC Tournament Finals when they visit Notre Dame (OH) Saturday at 12 p.m. Notre Dame won the AMC Finals game, 12-2, last spring. The Pioneers also visit Ursuline for two games Sunday at 3 p.m.
Notre Dame (OH) will have live stats of the game, and Ursuline will have a live audio stream online. Visit the Point Park athletics website for links to coverage.
Follow us on Twitter @PointParkSports and Facebook.com/PointParkAthletics