Point Park softball takes two from Ursuline, reaches .500 at 10-10 overall
March 27, 2012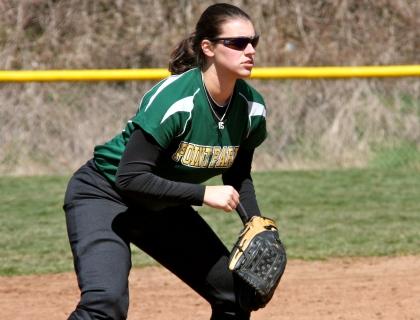 Ashley Morran hit two home runs and had four RBIs on Tuesday. Photo by Lyddia Ankrom.
PEPPER PIKE, Pa. -- The Point Park University softball team won two non-conference games at Ursuline College, 6-2 and 7-2, on Tuesday to even its overall record at 10-10.
The Pioneers (10-10) clubbed six home runs on the day -- three in each game -- to extend their win streak to four games. Point Park was 3-7 on its spring trip to Florida March 4-9 but is 7-3 since.
Ursuline (6-8) is a former American Mideast Conference foe, but the Arrows have left the AMC and the NAIA and are in year two of their NCAA Division II process.
Ashley Morran, a sophomore second baseman from Washington, Pa., belted two homers on the day and had two RBIs in each game. She belted a two-run homer in the third inning of game one to make it 3-0 in favor of Point Park.
Julie Campbell, who was 2 for 2 in game one, had hit a solo homer in the first inning. Campbell is a senior first baseman from Baldwin, Pa.
Danielle Dorunda, a junior third baseman from Warren, Pa., smashed a three-run homer in the sixth to pad the Pioneers' lead to 6-1.
Three of Point Park's six hits were home runs in the opener. Joining Campbell with two hits was Sara Guffey, who was 2 for 3 in each game to increase her team-best batting average to .432. Guffey is a junior catcher from Washington, Pa.
Kelsey Robertson (W, 6-3) and Ashlie Kuhn (S, 1) split the pitching duties in game one and came away with the win and save, respectively. Robertson tossed four scoreless innings with seven strikeouts, two walks and three hits. She was getting her first work since a shoulder injury forced her to miss a start late last week.
Kuhn threw the last three innings with five strikeouts, one walk and two runs on two hits.
Point Park once again got out to an early lead in game two as Nichelle Navarro's solo homer and Morran's two-run shot gave the Pioneers a 4-0 lead in the third inning. Although Ursuline cut it to 4-2 after three, Point Park tacked on with the help of Teresa Davis' solo homer and Larissa Banks' RBI single in the sixth.
Game two was called after six innings due to darkness.
Point Park totaled 13 hits. Navarro was 3 for 4. Getting two hits apiece were Olivia Sorce, Morran, Guffey and Zoe Hughes. Navarro and Sorce eached scored twice as the No. 1-2 hitters in the lineup.
Kate Reese (W, 2-2) pitched the first four innings to get the victory. She scattered six hits, struck out one, walked one and gave up two runs. Audrey Eisentrout (S, 2) pitched the final two innings to earn the save. She did not give up a run and yielded just one hit.
After their home run outputs on Tuesday, Morran, Dorunda and Davis share the team lead with three homers each. Campbell has two and Navarro 1.
Point Park resumes non-conference action with Wednesday's visit to Clarion for a doubleheader beginning at 2:30 p.m. The Pioneers open AMC play Friday and Saturday versus Houghton.
Follow us on Twitter @PointParkSports and Facebook.com/PointParkAthletics