Morran, Reese earn AMC Softball Player & Pitcher of the Week awards
March 29, 2012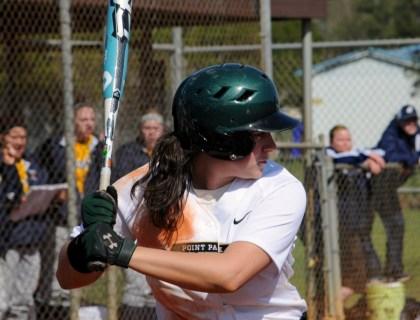 Sophomore second baseman Ashley Morran is the AMC Player of the Week. Photo by Alica Fevola
PITTSBURGH -- Point Park University's Ashley Morran and Kate Reese were named the American Mideast Conference Softball Player & Pitcher of the Week for games played March 19-25.
Morran is a sophomore second baseman from Washington, Pa., and Trinity High School. The leading power hitter for the Pioneers (11-11), Morran hit .625 (5 for 8) with two doubles, three runs and three RBIs in three games last week. A highlight of her week was going 3 for 3 with two RBIs in a 15-2 win over SUNY-Canton last Friday.
For the season, the 5-10 Morran is hitting .345 with five doubles, three homers and a team-high 15 RBIs in 19 games.
Reese is a freshman pitcher from Cresson, Pa., and Penn Cambria High School. Reese threw eight scoreless innings across two appearances last week. Her numbers for the week included a 1-0 record, eight innings, eight strikeouts, no walks, seven hits and no runs.
The 5-foot-3 right-hander had her week highlighted with a shutout of SUNY-Canton last Friday. Reese struck out eight, walked none and scattered five hits in the complete-game win. She also threw two scoreless innings of relief in a loss to Malone.
For the year, Reese is 2-3 with a 5.13 ERA in 40.2 innings. She has 10 appearances, and her ERA is 2.58 over her last eight outings.