Morran repeats as AMC Softball Player of the Week, is hitting .638 the last two weeks
April 2, 2012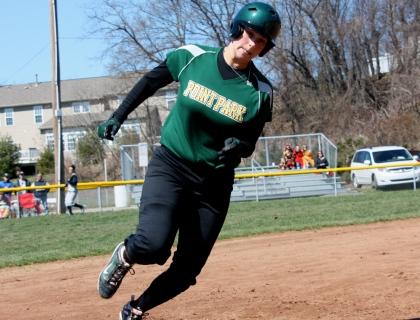 Ashley Morran is the AMC Softball Player of the Week again. File photo by Lyddia Ankrom.
PITTSBURGH -- Point Park University's Ashley Morran continued her hot streak and is the American Mideast Conference Softball Player of the Week for March 26-April 1. It is the second week in a row that the sophomore second baseman from Washington, Pa., has received the award.
Morran, a 5-10 product of Trinity High School, hit .642 with four homers and 15 RBIs in eight games last week. Point Park (15-11, 4-0 AMC) had a 7-1 record last week as Morran totaled 18 hits in 28 at bats. She totaled an astounding 34 total bases for a slugging percentage of 1.21 on the week.
Morran hit safely in all eight games with six multi-hit games. She had three hits in each of the final four games of the week. In the four-game, weekend series versus Houghton, Morran was 12 for 13 with two home runs and 10 RBIs. She currently has a 12-game hitting streak dating back to March 18.
Morran, the former WPIAL Player of the Year at Trinity, is hitting .638 (23 for 36) in her impressive, two-week stretch. The Pioneers' cleanup hitter, she is leading the team in batting average (.456), hits (31), doubles (7), home runs (5), RBIs (25) and slugging percentage (.809). All of those numbers are prior to Tuesday's games vs. Fairmont State.
Point Park plays host to Fairmont State on Tuesday at 3 p.m. (DH) at Lind Field at Fairhaven Park. The Pioneers play another non-conference doubleheader at home Wednesday when they host West Liberty on Wednesday at 3 p.m.
Follow us on Twitte @PointParkSports and Facebook.com/PointParkAthletics