Robertson named AMC Softball Pitcher of the Week on strength of no-hitter
April 26, 2012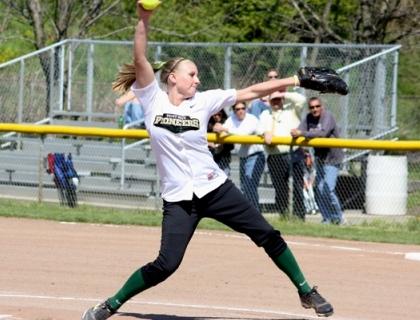 Kelsey Robertson is a junior pitcher from Frostburg, Md. Photo by Lyddia Ankrom.
PITTSBURGH -- During a week that included a no-hitter, two victories and a save, Point Park University's Kelsey Robertson earned American Mideast Conference Softball Pitcher of the Week honors for April 16-22. The award was announced by the league on Wednesday.
Robertson, a junior right-hander from Frostburg, Md., pitched a no-hitter versus Walsh on April 16 to stake her claim to the award early in the week. The no-hitter versus Walsh included six strikeouts in what was a 5-0 victory.
The next day, she earned a complete-game win over Carlow and then came back in the second game of the doubleheader to earn the save.
In the opening game versus Carlow, Robertson gave up five early runs but held things there long enough for the Pioneers (24-22, 11-3 AMC) to come back for a 6-5 win. Robertson totaled seven strikeouts in seven innings.
The next game versus Carlow was a 1-0 win. Robertson came on to pick up the save in the bottom of the ninth after Point Park got the game's only run in the top of the inning.
Robertson's only loss of the week was 4-0 at Walsh on April 20. She gave up only five hits in six innings, but Point Park had just two hits offensively.
For the week, Robertson pitched 22 innings with 16 strikeouts and six walks. On the year, she is 12-8 with a 3.05 ERA in a career-high 124 innings. She has started 21 of Point Park's 36 games and has racked up a career-high 117 strikeouts.
Robertson and the Pioneers are the No. 1 seed in the AMC Tournament, and they begin tournament play Friday (April 27) at 12 p.m. They await the winner of the Carlow-Houghton first-round game, in the three-team, double-elimination event.