Point Park U. gets four on Capital One (R) Academic All-District Softball Team
May 3, 2012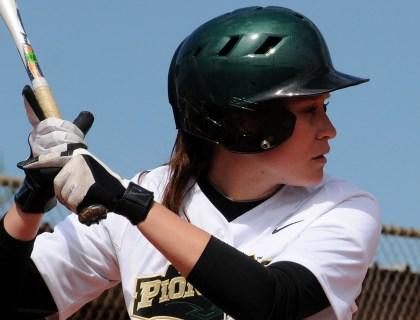 Senior Zoe Hughes leds the Pioneers' list of Capital One (R) Academic All-District honorees. Photo by Alice Fevola
PITTSBURGH -- The Point Park University softball team had four players named to the Capital One (R) Academic All-District Softball First Team as announced by the College Sports Information Directors of American on Thursday (May 3).
To be eligible for the recognition, student-athletes must have at least a 3.30 GPA, be nominted by their school's SID and be a starter or important reserve. Members of CoSIDA vote on the nominees, and the awardees are chosen for their combined performance athletically and in the classroom.
Those making the grade for Point Park softball in 2012 were senior Zoe Hughes (3.6, Intelligence & National Security) and juniors Danielle Dorunda (3.7, Business Management), Amanda Ardinger (3.6, Education) and Sara Guffey (3.4, Sports, Arts & Entertainment Management).
All four earned Capital One (R) Academic All-District First Team honors for the first time in their careers. Point Park falls within District 1 of the College Division (for NAIA & Junior Colleges).
Hughes is a senior center fielder from Butler, Pa. She hit .279 this year and had five outfield assists as the starting center fielder. Dorunda is a junior third baseman from Warren, Pa., who hit .221 with six homers and 15 RBIs this year.
Ardinger is a junior left fielder from Moon Twp., Pa., who hit .310 with two homers and 24 RBIs as the No. 3 hitter in the lineup. Guffey is a junior catcher from Washington, Pa., who hit .276 with four home runs and 19 RBIs as the Pioneers' No. 5 hitter.
To view the entire list of Capital One (R) Academic All-District honores, download the PDF release from CoSIDA at the link above.
Pictured below L to R are Zoe Hughes, Danielle Dorunda, Amanda Ardinger and Sara Guffey.