Point Park gets four on All-AMC Softball First Team to lead the conference
May 9, 2012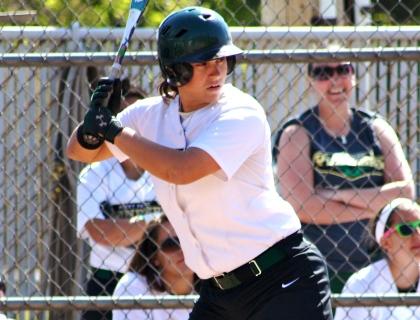 Ashley Morran (2B) hit .402 with 10 HR and 45 RBIs to earn All-AMC First Team honors. Photo by Lyddia Ankrom.
PITTSBURGH -- Point Park University had four players make the All-American Mideast Conference Softball First Team to lead the conference. In all, the Pioneers had nine players recognized with the announcement of the All-AMC Softball Teams by the league office on Wednesday.
Leading Point Park's all-conference selections was sophomore second baseman Ashley Morran, who was an AMC Player of the Year candidate but came up short in the voting. Morran, a 5-10 native of Washington, Pa., had a monster year with a .402 batting average, 10 home runs and 45 RBIs to earn a spot on the All-AMC First Team.
Morran also clubbed nine doubles and one triple among her team-high 51 hits for an impressive slugging percentage of .724. She was edged out for AMC Player of the Year by Walsh's two-way threat Kelsey Ford, who was a dominant pitcher who also hit .450 with 42 RBIs.
Also on the All-AMC First Team from Point Park was senior right fielder Nichelle Navarro, a native of Buena Park, Calif. Navarro was second on the team with a .343 batting average, drove in 12 runs and had a team-high 13 stolen bases in 14 attempts as the lead-off hitter.
Senior catcher Sara Guffey, from Washington, Pa., made the All-AMC First Team with a solid .276 batting average and had good production with four homers and 19 RBIs.
Junior pitcher Kelsey Robertson, a native of Frostburg, Md., was one of three pitchers on the All-AMC First Team and rounded out the Pioneers' top all-star picks. Robertson was Point Park's No. 1 starter and was 13-10 with a 3.16 ERA. She registered career highs for wins (13), strikeouts (134) and innings pitched (139.2) with her most extensive work yet.
Earning a spot on the All-AMC Second Team from Point Park were senior first baseman Julie Campbell, from Baldwin, Pa., and junior shortstop Olivia Sorce, from Vernon, Pa.
Campbell hit .301 with 3 home runs and 20 RBIs. Sorce batted .306 with six doubles, three triples, a homer and 17 RBIs. Sorce had a good slugging percentage at .427, and Campbell turned in a high fielding percentage of .990 with just two years all year.
Point Park had two players earn All-AMC Honorable Mention honors in senior center fielder Zoe Hughes and junior left fielder Amanda Ardinger.
Hughes, a native of Butler, Pa., hit .279 with a homer and nine RBIs and played perhaps the best defensive center field in the AMC. Ardinger, a native of Moon Twp., Pa., batted .301 with two homers and 24 RBIs as the Pioneers' No. 3 hitter in the lineup.
Freshman pitcher Kate Reese, from Cresson, Pa., made mention in the three-player All-AMC Freshmen Team. She was 6-5 with a 4.20 ERA, and 15 of her 21 appearances came as a starter in her first year.
For a complete list of the All-AMC honorees, click the AMC Release link at the top of this page.