Seventh inning proves crucial in Point Park's doubleheader split at Clarion
March 28, 2012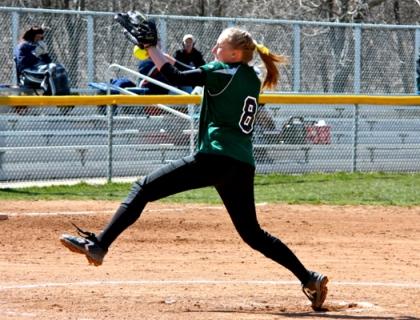 Kelsey Robertson carried a no-hitter through five innings but had to leave game one. File photo.
CLARION, Pa. -- The seventh inning played a big role in Point Park University's softball doubleheader at Clarion on Wednesday. Point Park won game one, 6-1, with all of its runs coming in the top of the seventh inning. But Clarion won the nightcap, 5-4, with a single run in the bottom of the seventh.
Point Park (11-11) had just two hits throught the first six innings of game one but erupted for six runs on six hits and a key error in the top of the seventh. Clarion (7-9) got its only run in the bottom of the seventh as all the runs in the game were scored in the final frame.
Kelsey Robertson, Point Park's starting pitcher in game one, was carrying a no-hitter when she had to leave the game after five scoreless innings. The junior right-hander from Frostburg, Md., was lifted because she had reached her 50-pitch pitch count.
Robertson is rehabbing a shoulder injury that forced her to miss a start last Friday. With American Mideast Conference play starting this weekend with a four-game series versus Houghton, head coach Michelle Coultas wanted to make sure her No. 1 pitcher is ready to go.
"It killed me taking her out," said Coultas. "But we needed to make sure she is okay for conference play this weekend."
Robertson had struck out eight and walked two in her five scoreless, hitless innings. Audrey Eisentrout (3-1) got the win in two innings of relief. She allowed three hits and one run with one strikeout and no walks.
Eisentrout was the beneficiary of Point Park's offense in the seventh, which started with Ashley Morran's one-out triple. Sara Guffey followed with an RBI single. Amanda Ardinger then laid down a sacrifice bunt, and with two outs, Zoe Hughes delivered a run-scoring single. An infield error allowed two runs to score and kept the inning alive for Olivia Sorce's RBI double.
Morran and Sorce ended up with two hits apiece in game one, and Point Park had eight hits in all. Clarion's Shawna Crago took the loss in a complete game. She struck out three, walked one and only two of the six runs charged to her were earned.
Point Park led game two, 4-0, after its first three times at bat, but Clarion responded with a four-spot in the bottom of the third to tie things up. Things stayed that way until the Eagles pushed across the game-winning run in their last at bat.
In the Point Park first, Nichelle Navarro reached on an error to lead of the inning. She was sacrificed to second by Sorce and scored on Julie Campell's RBI single.
Navarro, who was 2 for 4, got things started again in the third when she led off with a single and stole second. Navarro scored when Sorce reached on an error, and the three-run inning was also included run-scoring singles from Morran and Sara Guffey.
Point Park's seven hits came from six different players.
Point Park starter Kate Reese had faced only six batters through her first two innings but Clarion put together a rally thanks to four runs on four hits and two errors in the third. With two on and one out, Rebecca Lynch ripped an RBI double, and Sara Clark stroked a two-run single to provide the key hits of the rally.
Both teams came up empty on some chances until the bottom of the seventh when Lynch doubled, and Amanda Gough drove in the winning run with a two-out single.
Reese (2-3) gave up 10 hits in 6.2 innings and four of the five runs charged to her were earned. She struck out three and walked one in taking the loss.
Point Park had runners at first and second with one out in the fourth but could not take advantage of it. A lead-off single and bunt put the go-ahead run in scoring position in the Point Park sixth, but the Pioneers had that runner thrown out at home trying to score on a would-be sacrifice fly.
The Pioneers are in action this Friday and Saturday with two home doubleheader vs. AMC foe Houghton. The Highlanders are in their first year of softball. Game time is 3 p.m. on Friday and 1 p.m. Saturday. All games will be at Lind Field at Fairhaven Park.
Follow us on Twitter @PointParkSports and Facebook.com/PointParkAthletics