Point Park routs Houghton again, 9-3 and 11-3, for AMC sweep
March 31, 2012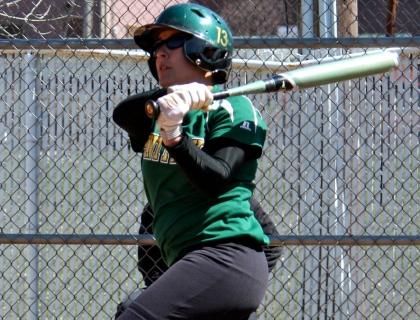 Nichelle Navarro 6 for 8 with two RBIs and 5 runs on Saturday. File photo by Lyddia Ankrom.
KENNEDY TWP., Pa. -- The Point Park University softball team put up 20 runs and 31 hits in Saturday's doubleheader sweep of visiting Houghton College, 9-3 and 11-3, at Fairhaven Park. Game two ended after five innings due to the eight-run mercy rule.
Point Park (15-11, 4-0 AMC) had beaten Houghton (0-18, 0-6 AMC) twice on Friday and swept all four games from the first-year Highlanders softball program. The Pioneers totaled 38 runs and 48 hits in its weekend sweep.
Point Park's cleanup hitter Ashley Morran continued her hot hitting by going 6 for 7 with four RBIs and a home run in Saturday's doubleheader. She smashed a three-run homer in the first inning of game one. The sophomore second baseman from Washington, Pa., and Trinity High School is leading the team with a .456 average, five homers, 25 RBIs and a sluggling percentage of .806.
Lead-off hitter Nichelle Navarro was 6 for 8 with two RBIs and five runs in Saturday's games. She ripped a two-run single in the fifth inning of game one for an 8-3 lead.
After Houghton got within 3-2 in the opener, Sara Guffey's two-RBI single and Julie Campbell's run-scoring double in the bottom of the third gave the Pioneers a 6-3 lead.
Danielle Dorunda and Campbell each added two hits as part of Point Park's 14-hit output. Zoe Hughes added a sacrifice fly in the sixth for a 9-3 edge. Morran was 3 for 4 with three RBIs. Navarro was 3 for 5 with two RBIs.
Kelsey Robertson (8-3) earned the game-one victory with 11 strikeouts and two walks in a complete game. Robertson gave up three runs on seven hits.
Point Park needed only five innings to score 11 runs and collect a season-high 17 hits in the second game.
The Pioneers got things started early as their three-run first included an RBI triple from Olivia Sorce and an RBI double from Morran. Sorce ended up 3 for 4 with two RBIs and two runs, and Morran was 3 for 3 with an RBI and two runs.
Amanda Ardinger made it 6-0 Point Park with her three-run homer in the second. Ardinger was 2 for 3 with three RBIs and two runs. Julie Campbell added another multi-hit game, and she collected both of her RBIs on a two-run single in the fourth.
With Point Park leading, 9-3, the eight-run rule went into effect on Destiny James' pinch-hit, two-run single in the fifth.
Navarro was 3 for 3 with four runs to join Sorce and Morran as players with three hits.
Winning pitcher Kate Reese (3-3) gave up four hits in the five-inning complete game. She struck out four, walked three and all three runs she gave up were unearned.
Point Park is back in action Tuesday with a home doubleheader versus Fairmont State at 3 p.m. The Pioneers have another non-conference doubleheader at home on Wednesday as they host West Liberty at 3 p.m.