Gannon routs Point Park in non-conference DH, 16-3 and 15-2
April 13, 2012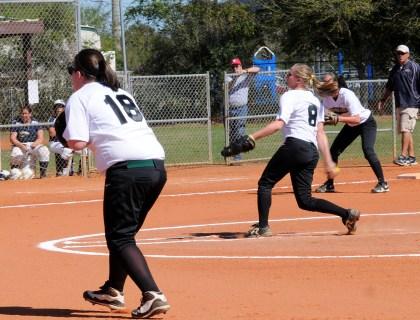 Photo by Alice Fevola


KENNEDY TWP., Pa. -- Friday the 13th was not kind to Point Park Univeristy as the Pioneers lost to visiting Gannon University, 16-3 and 15-2, in a non-conference softball doubleheader at Lind Field at Fairhaven Park on Friday. Both games ended after five innings due to the mercy rule.
Gannon (25-12, 6-4 PSAC-W),  the No. 4 team in the NCAA Division II Atlantic Region, clubbed nine homers on the day. Five of those came in the opener, and four were in the nightcap.
Point Park (19-17, 6-0 AMC) showed some life early in game one as it scored three times in the bottom of the first to cut the Gannon lead to 6-3. But the Golden Knights scored 10 unaswered runs before the game was through.
Point Park had five hits in the first game, three of which came in the first inning. After singles by Olivia Sorce and Amanda Ardinger and a walk to Ashley Morran, Sara Guffey drove in a run with a groundout. The next batter, Julie Campbell, ripped a two-run single.
Gannon added five more runs in the second to chase starter Kelsey Robertson (10-6). Gannon went on to get five runs in the three innings pitched by reliever Audrey Eisentrout.
Point Park's game-two starter Ashlie Kuhn retired six of the first seven batters she faced, but the Golden Knights got to her in the third. Gannon scored seven times that inning wih the help of two home runs and two Point Park errors.
The Pioneers got within 7-2 in the bottom of the third as Courtney Manovich and Maeve Gallagher got things started with infield singles. Manovich scored on an error that followed Destiny James' sacrifice bunt, and Amanda Ardinger added a sacrifice fly.
But Gannon put the game out of reach with eight runs in its next two times at bat.
Point Park had just three hits versus game-two winner Erica Bartholow. She struck out four, walked three and did not give up an earned run.
Point Park continues its play versus NCAA Division II schools when its visits Notre Dame (OH) for two games on Saturday. Game time in South Euclid, Ohio, is 1 p.m. for what will be a re-match of last year's American Mideast Conference Tournament championship game.
Notre Dame is no longer in the AMC as it is in year two of its NCAA Division II process.
Follow us on Twitter @PointParkSports and Facebook.com/PointParkAthletics