Kuhn's no-hitter highlights Point Park U.'s wins over Fisher College
April 21, 2012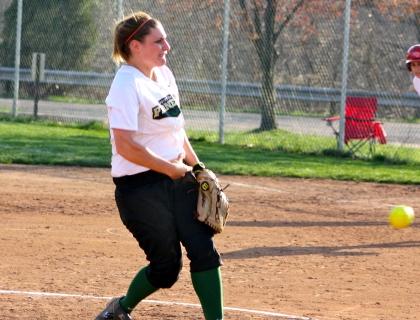 Ashlie Kuhn tossed a no-hitter in the 13-0 win over Fisher in Game 1 Saturday. Photo by Lyddia Ankrom.
PITTSBURGH -- Point Park University picked up a pair of lopsided wins over visiting Fisher College, 13-0 and 8-0, in American Mideast Conference softball action on Saturday at Lind Field. Both games ended after five innings due the mercy.
Ashlie Kuhn threw a no-hitter in the first game, and teammate Kate Reese worked a one-hitter in game two. Point Park improved to 24-22 overall and 11-3 AMC while winless Fisher dropped to 0-41, 0-14 AMC.
The teams were scheduled to play four games on Saturday, but the last two games were rained out. A make-up date has not been set for those games yet.
Kuhn (3-7), a junior from Cranberry Twp., Pa., and Seneca Valley High School, recorded 10 strikeouts and three walks in the five-inning no-hitter. Reese (6-5), a freshman from Cresson, Pa., and Penn Cambria High School, struck out five, walked none and gave up her only hit in the last inning, which was the fifth.
Point Park out-hit Fisher, 26-1, on the day. Seventeen of those hits came in the first game. Three different players -- Ashley Morran, Nichelle Navarro and Lauren Fevola -- went 3 for 3 for the Pioneers. Morran and Fevola each picked up three RBIs while Navarro scored three times.
Amanda Ardinger was 2 for 3 with two runs and three RBIs. Olivia Sorce and Maeve Gallagher were each 2 for 3 with two RBIs.
The Pioneers opened game one with five runs in the first inning on the strength of RBI singles from Ardinger, Morran, Fevola and Gallagher. Gallagher's hit drove in two runs.
Point Park tacked on eight more in the second highlighted by two-run singles from Morran and Fevola and a couple of key errors that led to runs.
In the second game, Courtney Manovich led the offense by going 2 for 2 with two RBIs and a run. Abby Mathieu was 2 for 3 with an RBI and a run in the Pioneers' 9-hit output.
Point Park scored five times in the first inning of game two with the help of three errors, two walks and two hits. The hits were Manovich's run-scoring single and Teresa Davis' RBI double.
The Pioneers added two more in the second as Mathieu and Manovich drove in runs with base hits. Larissa Banks picked up an RBI single in the third to make it 8-0 and register enough runs for the mercy rule.
Point Park does not have any games scheduled until the AMC Tournament late next week at Carlow. For a complete tournament schedule, visit the Point Park athletic website as that information becomes available.
Follow us on Twitter @PointParkSports and Facebook.com/PointParkAthletics