Slippery Rock sinks Point Park in non-conference softball DH, 3-2 and 9-6
April 12, 2012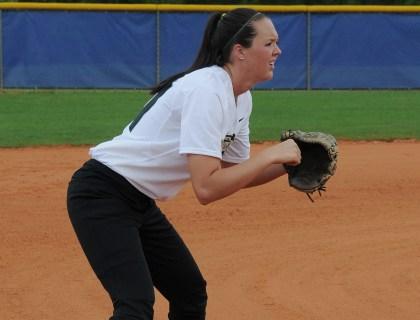 Third baseman Danielle Dorunda was 2 for 4 with a home run in game two. Photo by Alice Fevola.
SLIPPERY ROCK, Pa. -- Slippery Rock University made the most of its five hits to beat Point Park University, 3-2, in the first game of a non-conference softball doubleheader Thursday and then won a slugfest in the nightcap, 9-6.
Point Park (19-15, 6-0 AMC) left 11 runners on base and could not find the key hit in losing the opener. The Pioneers out-hit Slippery Rock (13-12), 9-5, but left the bases loaded in the third and fifth innings and could not get the tying run in from second base in the top of the seventh.
Slippery Rock (13-12) clubbed three home runs in the second game to jump out to a 6-0 lead after two innings. Point Park battled back to tie things at 6-6 with home runs from Sara Guffey and Danielle Dorunda, but the Rock responded with three runs in the bottom of the sixth to go back in front, 9-6.
Slippery Rock had 13 hits, and Point Park had 12 of its own, but it was not enough to keep the Pioneers from losing both ends of a doubleheader for the first time since March 8.
In the first game, Point Park's No. 1-3 hitters Nichelle Navarro, Olivia Sorce and Amanda Ardinger all had two hits. Navarro scored both of the Pioneers' runs, and the third and fifth innings unfolded similarly.
In the third, Navarro reached on a bunt single, Sorce singled to left and Ardinger singled to short stop to load the bases. Ashley Morran then followed with a walk to force in a run, but the Pioneers went on to leave the bases loaded.
In the fifth, Navarro walked with one out, and Sorce and Ardinger each laced a base hit to load the bases. Navarro came home on a wild pitch, and although Morran drew her second of three walks to re-load the bases, the Pioneers could not take advantage as the score remained 3-2 in favor of the Rock.
Slippery Rock got just five hits versus losing pitcher Kelsey Robertson (10-5), who struck out five and walked one in a complete game. One of those five hits was a solo homer by Kristen Kaminski in the third that tied things at 1-1.
Slippery Rock loaded the bases with no outs in the fourth via a hit batter, a single and a walk. Unlike Point Park, Slippery Rock was able to get a big hit from Alaynna Beers, who stroked a two-run single for a 3-1 lead.
Winning pitcher Shaylee Ianno (8-6) gave up nine hits, struck out seven and walked four.
Slippery Rock got its offense going early in game two as Katie Saluga blasted a lead-off homer in the bottom of the first and then added a three-run shot in the second. In between, Kristen Brant hit a two-run homer in the first.
But Point Park cut the lead in half with Guffey's solo homer and Dorunda's two-run bomb in the fourth. Dorunda, who was 2 for 4 with a double and two RBIs, has five homers on the year. It was the third of the year for Guffey.
In the top of the sixth, Julie Campbell and Zoe Hughes each singled to set up Navarro's two-run double. Sorce followed with an RBI triple to tie things at 6-6. Campbell was 3 for 4, and Hughes and Sorce had two hits apiece.
But Slippery Rock responded in its half of the sixth as Saluga drove in a run with a base hit to give her five RBIs in the game. Natalie Atkinson added a two-run single for some insurance runs.
Ashlie Kuhn (2-5) took the loss in 4.1 innings of relief. Four of the six hits and all three runs she gave up came in her last inning of work, which was the sixth. Audrey Eisentrout got the start and lasted 1.2 innings. 
Point Park is back in action the next two days with two more non-conference doubleheaders versus NCAA Division II teams. The Pioneers host Gannon (23-12) on Friday at 3 p.m. and visit Notre Dame (OH) (7-15) on Saturday at 1 p.m.
Point Park is 6-6 versus NCAA DII competition this year. Gannon is ranked No. 4 in the NCAA DII Atlantic Region. The matchup with Notre Dame (OH) is a rematch of last year's AMC Tournament championship game won by the Falcons, 12-2.
Follow us on Twitter @PointParkSports and Facebook.com/PointParkAthletics