Point Park drops two non-conference games at Notre Dame (OH)
April 14, 2012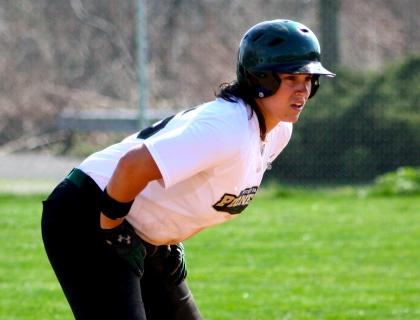 Ashley Morran clubbed her ninth homer of the year in Game 1 Saturday. Photo by Lyddia Ankrom.
SOUTH EUCLID, Ohio -- Notre Dame (OH) College got the best of Point Park University, 9-1 and 8-3, in a pair of non-conference softball games on Saturday. The meetings were a rematch of last year's AMC Tournament championship game won by Notre Dame, 12-2.
Point Park (19-19, 6-0 AMC) managed only two hits in the opener, one of which was Ashley Morran's ninth homer of the year. In the second game, the Pioneers scored three times in the top of the fifth to cut the deficit to 8-3 and extend the game two more innings. But Point Park could not cut into the lead and lost for the sixth time in a row.
After a playing three tough doubleheaders in three days versus NCAA Division II competition, Point Park will get back into conference play with the hopes of ending the slide. The Pioneers host Walsh in an AMC twinbill on Monday (3 p.m.) and visit Carlow for an AMC rivalry on Tuesday (6:30 p.m.).
Point Park lost twice at Slippery Rock on Thursday and lost two home games to Gannon on Friday.
Point Park's regular season concludes next weekend with a trip to Walsh on Friday (1 p.m.) and a four-game, AMC series with Fisher next Saturday and Sunday.
Notre Dame (OH), which is no longer in the AMC or the NAIA on account of it being in year two of its NCAA Division II process, won the opener with four runs in the fourth and five in the fifth. The Falcons' four runs in the fourth came without the benefit of a hit or an error.
Notre Dame broke open game two with five runs in the second inning highlighted by five hits. Megan Turner blasted a three-run homer in the third for an 8-0 lead.
Point Park put together three runs with two outs in the fifth to prevent the mercy rule from taking effect. Zoe Hughes doubled with two outs and no one on, and that was followed by Nichelle Navarro's walk and Olivia Sorce's infield hit.
Amanda Ardinger smashed a two-run double for one of her two hits, and Morran drove in a run with a single. Unfortunatley, Point Park could not cut into the lead and the game with an 8-3 final score.
Sorce joined Ardinger with a couple of hits of her own.