Point Park University drops two AMC softball games at Walsh, 4-0 and 10-7
April 20, 2012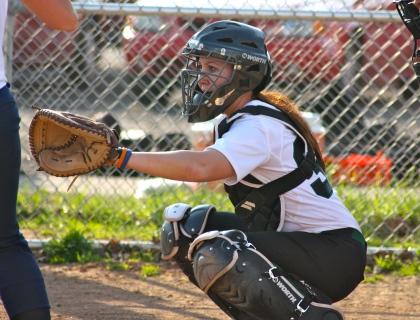 Catcher Teresa Davis hit a two-run homer in game two Friday. Photo by Lyddia Ankrom.
NORTH CANTON, Ohio -- Walsh University pitcher Kelsey Ford got the victory in both games and was 4 for 7 with two RBIs on the day to lead the Cavaliers to American Mideast Conference victories of 4-0 and 10-7 over visiting Point Park University on Friday.
Ford (15-4) tossed a two-hit shutout with seven strikeouts and no walks in winning the opener, 4-0. The Cavaliers (34-16, 13-3 AMC) scraped across two runs each in the second and sixth innings.
In game two, Point Park (22-22, 9-3 AMC) tied things up at 4-4 in the second inning to chase Walsh starter Erin Ebert. Ford then came in and allowed only three more runs and three hits over the final 5.2 innings to get the win in relief.
With Friday's sweep, Walsh took three of four from Point Park in the season series. Ford won all three games for Walsh, with the other one being a 10-strikeout performance on Monday.
Point Park has four more AMC games, with all of them scheduled for Saturday versus winless Fisher (0-39, 0-12 AMC). Point Park can earn a share of the AMC Regular Season title with Walsh if it wins all four games versus Fisher.
The first pitch versus Fisher on Saturday will be 11 a.m. on Lind Field at Fairhaven Park. It will also be Senior Day for the Pioneers.
Point Park shared the conference regular season title last year with Notre Dame (OH) at 10-4 AMC.
Point Park's Kelsey Robertson (12-8) took the loss in Friday's opener. She gave up four runs -- three of which were earned -- on five hits. She struck out one, walked one and didn't get any offensive support with the Pioneers being held to two hits versus Ford.
Walsh's runs in the second inning came together with a walk, a hit batter and an error that followed a base hit to the outfield that allowed a run to score. The other run that inning came home on a groudout. The Cavs added two more in the sixth when Ford hit an RBI double and came home on a sacrifice fly.
The Point Park batters went down in order, 1-2-3, in five of the seven innings. Julie Campbell's single in the second, and Zoe Hughes' base hit in the sixth were the only base runners all game.
In game two, the teams combined to score 14 runs the first three innings with Walsh coming out of that span with an 8-6 after three.
The Cavs put up four in the bottom of the first highlighted by Kendra Gerber's three-run homer. Point Park's Teresa Davis belted a two-run homer to tie things up at 4-4 in the second.
Walsh went ahead, 7-4, with three runs in the bottom of the second as Point Park made all three of its errors in that inning.
From there, Point Park twice cut the deficit to a single run, but Walsh successfully maintained the lead thanks to its ability to answer with its own runs. Run-scoring base hits by Danielle Dorunda and Zoe Hughes got Point Park within 7-6 in the third. The Pioneers pushed across an unearned run to get within 8-7 in the fifth.
Point Park's seven runs came on four hits. Ebert and Ford combined to walk five batters, and the Walsh defense matched Point Park with three errors.
Point Park used all three of its available pitchers in game two, and starter Kate Reese (5-5) took the loss in 1.1 innings of work. Ashlie Kuhn gave up two runs in 3.2 innings, and Robertson gave up a run in the sixth, her only inning on the mound.
Follow us on Twitter @PointParkSports and Facebook.com/PointParkAthletics