KIAC Softball Player of the Year Morran leads Point Park's KIAC All-Conf. Selections
May 7, 2013 at 12:00 p.m. ET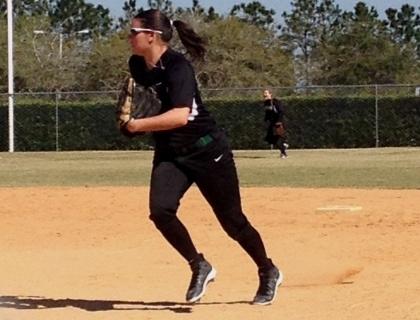 Point Park 2B Ashley Morran is the 2013 KIAC Softball Player of the Year. Photo by Lauren Jones.
PITTSBURGH -- The Kentucky Intercollegiate Athletic Conference announced its KIAC Softball All-Conference Teams on Monday (May 6), and 2013 KIAC Softball Player of the Year Ashley Morran leads four selections from Point Park on the first team.
Morran, a junior second baseman from Washington, Pa., was named the top player in the conference with another monster year hitting .388 with 13 home runs and 56 RBIs in 44 games. The 5-10 Morran hit cleanup for the Pioneers (31-13, 22-6 KIAC), who finished second in the KIAC regular season standings and third at the KIAC Tournament this past weekend.
Joining Morran on the KIAC All-Conference Team from Point Park were senior first baseman Courtney Manovich, from Murrysville, Pa., sophomore pitcher Kate Reese, from Cresson, Pa., and freshman center fielder Taylor Geary, from Glassport, Pa.
The KIAC chose 18 players for the KIAC Softball All-Conference Team, and there was not a second team named. There were six pitchers, six infielders, four outfielders and two catchers named to the all-conference team. Indiana Southeast had the most selections with six followed next by Point Park with four.
Indiana Southeast's Jenna Swain, who won two games in the KIAC Tournament to lead the Grenadiers to the title, was named the KIAC Pitcher of the Year. IU Southeast's Joe Witten was tabbed the KIAC Coach of the Year.
Morran will be a strong candidate for NAIA Softball All-American, and she was Honorable Mention All-American last year. The Trinity High School product was seventh in the KIAC with a .388 average and led the league in runs (44) and RBIs (56). She was second in the KIAC with 13 homers and also second with a slugging percentage of .813.
Morran set career highs in every major category this year except for batting average. In 123 career games as a three-year starter, she is hitting .363 with 29 home runs and 127 RBIs. Her outstanding junior season added on to her strong sophomore year when she hit .402 with 10 homers and 45 RBIs last year.
Manovich, from Murrysville, Pa., and Franklin Regional High School, had a great senior season in her first year as a full-time starter. Point Park's first baseman hit a career-high .339 to rank 19th in the KIAC, and she also registered a career-high 26 RBIs. An excellent fielder, she had zero errors in 225 total chances to tie first first in the NAIA with a fielding percentage of 1.000. It was the first time in her career that she was named all conference.
Reese, from Cresson, Pa., and Penn Cambria High School, led Point Park in wins with an 11-4 record and ranked highly in the KIAC in several categories. The sophomore right-handed pitcher had a career-best 2.50 ERA in 81.1 innings pitched. She ranked fifth in the conference in ERA, second in wins (11) and sixth in opponent's batting average (.264).
Geary, from Glassport, Pa., and South Allegheny High School, was the starting center fielder for the Pioneers as a freshman. Point Park's lead-off hitter, Geary hit a team-best .420 to rank fifth in the KIAC in batting average. The 5-foot tall Geary also showed power with five homers and 31 RBIs to rank second on the team to Morran in both categories. Geary racked up a team-best 58 hits, which were tied for second in the conference.

KIAC Softball All-Conf. (L to R): 2B Ashley Morran, 1B Courtney Manovich, RHP Kate Reese, CF Taylor Geary
Follow the Pioneers on Twitter @PointParkSports and Facebook.com/PointParkAthletics