Morran & Robertson earn KIAC Softball Player and Pitcher of the Week honors
April 23, 2013 at 2:05 p.m. ET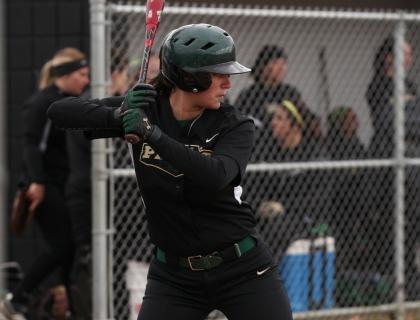 Ashley Morran hit .550 with four HRs and 10 RBIs last week. Photo by Lyddia Ankrom.
PITTSBURGH -- Point Park University's Ashley Morran and Kelsey Robertson earned KIAC Softball Player & Pitcher of the Week honors for April 15-21, 2013, the conference announced on Monday. Morran is a junior second baseman from Washington, Pa., and Robertson is a senior pitcher from Frostburg, Md.
Morran, Point Park's cleanup hitter, had an impressive week hitting .550 (11 for 20) with three doubles, four homers and 10 RBIs. Morran was the leading hitter for a Pioneers' team that rattled off five wins in six games and put up 9.3 runs per game last week.
Morran homered in a KIAC win over Carlow early in the week, and her biggest game included two homers and three RBIs in a 12-4 rout of Midway on the weekend. She was also 2 for 2 with a home run and three RBIs in the second game of the doubleheader versus Midway.
For the year, the Trinity High School product is hitting .373 with team-highs of 13 doubles, eight homers and 44 RBIs. She is approaching her career-high numbers of last year when she hit .450 with 10 home runs and 45 RBIs to earn NAIA Honorable Mention All-American honors.
Robertson had an outstanding week on the mound to help the Pioneers solidfy second place in the KIAC standings. Robertson, a senior right-hander, was 2-0 with two complete games and also a save in her only relief appearance. Robertson had a 0.50 ERA with nine hits and 15 strikeouts in a total of 14.0 innings for the week.
Robertson threw a five-hit shutout of Carlow on April 16 in a seven-inning complete game. That game included seven strikeouts and no walks. She followed that up with a five-inning complete game versus Asbury (Ky.) on April 19, in which she allowed only one run on two hits. Robertson finished her week with two scoreless innings of relief in a win over Midway (Ky.) on April 20.
For the year, Robertson is unbeaten at 5-0 with a 1.62 ERA in nine appearances. She missed the first half of the year with a shoulder injury, but she has returned to the form of last year when she was the Pioneers' ace and first-team all-conference.
Point Park plays its final week of the regular season this week with home dates versus non-conference Salem International on Wednesday and KIAC opponents Alice Lloyd (Ky.) and Brescia (Ky.) Friday and Saturday. All games will be at Lind Field and will be broadcast live with streaming video on the Point Park Sports Network. Watch Live at www.iHigh.com/PointParkSportsNetwork.
Follow the Pioneers on Twitter @PointParkSports and Facebook.com/PointParkAthletics