Point Park extends win streak to five but comes away with split at Berea (Ky.)
March 30, 2013 at 11:15 p.m. ET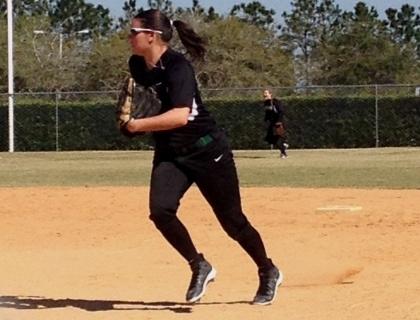 Junior 2B Ashley Morran had 3 RBIs in Saturdays win and now has 21 RBIs in 18 games. Photo by Lauren Jones.
BEREA, Ky. -- The Point Park University softball team upped its win streak to five games by winning at Berea (Ky.) College, 10-4, in the first game of a KIAC doubleheader on Saturday. But the Pioneers had their season-long win streak snapped when they lost the second game of the day, 4-1.
Point Park (11-7, 5-3 KIAC) had 20 hits on they day, but they weren't balanced out. The Pioneers racked up 16 hits in the opener, but they managed just four hits in the nightcap.
Every player in the Point Park lineup had a leaast one hit in Saturday's victory. Olivia Sorce, who clubbed three home runs the day before in a 23-0 win at Alice Lloyd, stayed hot by going 4 for 5 with two doubles, three runs and an RBI.
Cleanup hitter Ashley Morran was 3 for 4 with three RBIs to give her an impressive total of 21 RBIs through 18 games. Amanda Ardinger and LeAnne Blaeser had two hits apiece, and Sara Guffey drove in two runs. Gabi Vogt homered in the Point Park fourth to give the Pioneers a 4-0 lead.
Kristen Zelenka went six innings to get the win for Point Park. She gave up four runs but two were unearned as the Pioneers made a couple of errors in the game. Zelenka allowed six hits and four walks but also struck out five.
Taylor Geary's solo homer in the fifth inning was the only offense that Point Park got in the second game. That cut the deficit to 2-1, but winning pitcher Victoria Sergent didn't allow much else. Vogt was 2 for 3 to account for half of the Pioneers' hits.
Berea got seven hits off Point Park starter Hannah Harley, a freshman right-hander who pitched 5.0 innings. Berea got a big hit for a 2-0 lead in the third when Kari Knitven belted a two-run double. Knitven was 3 for 3.
Berea padded its lead to 4-1 with a couple of runs in the fifth. A single, a double and a walk loaded the bases with one out, and on the fielder's choice that followed two runs scored. Not only did Raissa Stovall score from third, Knitven came all the way around from second on the play.
Point Park's next games are scheduled for Wednesday, April 3 at home versus PSU-Fayette (3 p.m.). The doubleheader will be the Pioneers' home opener, which has been rained out three times.
Follow the Pioneers on Twitter @PointParkSports and Facebook.com/PointParkAthletics